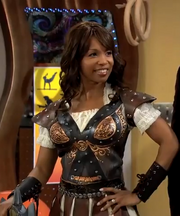 info was provided
http://antfarm.wikia.com/wiki/Roxanne_Parks
Roxanne Parks is the mother of Chyna and Cameron Parks and the wife of Darryl Parks. She is portrayed by Elise Neal. She's a children birthday parties entertainer. In "SciANTs Fair", Darryl called to her, but she wasn't seen. She made a cameo in the pilot episode. She appeared in the episode "ClairvoyANT" as an astronaut for a party. In "FraudulANT", Paisley and Lexi auditioned for her to become Birthday-Party entertainers. In "MutANT Farm" she is implied to be a gorgon. She later appeared in "SANTa's Little Helpers", in which she admitted that she disliked her sister. She most recently appeared in "PerformANTs", where she went with Chyna and her friends to a concert.
Episode Appearances
TransplANTed
SciANTs Fair (mentioned)
The InformANT (mentioned)
ClairvoyANT
FraudulANT
MutANT Farm (mentioned)
SANTa's Little Helpers
PerformANTs
Ad blocker interference detected!
Wikia is a free-to-use site that makes money from advertising. We have a modified experience for viewers using ad blockers

Wikia is not accessible if you've made further modifications. Remove the custom ad blocker rule(s) and the page will load as expected.