"
Rooting for the Enemy
" is a song from the
Milo Murphy's Law
episode of the same name
. It is sung by
Milo Murphy
who cheers on for the rival football team the Tigers. His cheering causes the Tigers to start losing and giving the home team, the Geckos, a winning chance.
Lyrics
I got a big foam finger
I got a new routine
I'm gonna turn the tables
Rooting for the enemy

I got a T-shirt and pompoms
You know the stuff ain't free
I spent seventeen dollars
Rooting for the enemy

It's a little counter intuitive
It's a paradoxical scheme
Cause you think it'll all be ruined
If I back the other team

You know I got a new perspective
I don't expect you to come along
I got a new hat and banner
And I got a new song

(Rooting for the enemy)
I got a big foam finger
I got a new routine
(Rooting for the enemy)
I'm gonna turn the tables
Rooting for the enemy

(Rooting for the enemy)
I got a T-shirt and pompoms
You know the stuff ain't free
(Rooting for the enemy)
I spent seventeen dollars
Rooting for the enemy

I got a big foam finger
v - e - d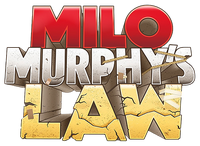 Locations
Swamp City • Jefferson County Middle School • Lard World