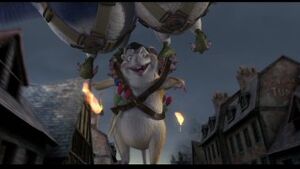 Rollo is a character in Valiant. He's a member of the French Resistance: Mouse Devision and he's an expert of sabotage, he likes it so much he likes to make sabotage (even when he hears the word). He helped Charles De Girl guide Valiant and the Royal Homing Piegeon Service through the battle field to get the message.
He was voiced by Buckley Collum.
Ad blocker interference detected!
Wikia is a free-to-use site that makes money from advertising. We have a modified experience for viewers using ad blockers

Wikia is not accessible if you've made further modifications. Remove the custom ad blocker rule(s) and the page will load as expected.