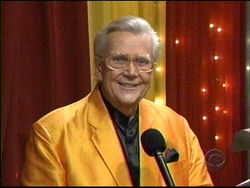 Robert Ray "Rod" Roddy (September 28, 1937 – October 27, 2003) was an American radio and television announcer. Rod's television career includes announcing on game shows such as Whew! (1979), Press Your Luck (1983-1986), and most notably, The Price is Right (1986-2003). His only Disney role was providing the voice of Mike the Microphone in House of Mouse.
Ad blocker interference detected!
Wikia is a free-to-use site that makes money from advertising. We have a modified experience for viewers using ad blockers

Wikia is not accessible if you've made further modifications. Remove the custom ad blocker rule(s) and the page will load as expected.