"
Rock and Roll
" is the thirtieth episode of the first season of
Penn Zero: Part-Time Hero
. It premiered on
August 10
,
2015
.
Synopsis
Penn is excited to be a super spy agent, but when he finds out he's actually a caveman spy with the lowest tech gadgets imaginable, his sour attitude on the situation endangers the mission.
Trivia
Penn's spy form from the opening sequence is featured in his secret agent fantasy.
The episode references The Flinstones and Meet the Croods where cave people prehistoric objects to simulate modern objects.
Also, Rippen's cave villain form can be seen as an homage to the James Bond villain Ernst Stavro Blofeld, who started the tradition of bald super villains.

This is further referenced when Rippen invents a wig similar out of moss similar to how Grugg did in the movie.
v - e - d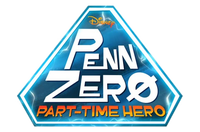 Locations
Middleburg • Middleburg Central High • The Odyssey • Fish Stick on a Stick • North Pole • Knight World • Superhero World • Arabian World • Plush Toy World • Clown World • Dinosaur Cowboy World • Cereal World • Old English World • Giant Monster World • Zombie World • Space World • Ocean World • Color World • Musical Fairy Tale World • Caveman Spy World • Future Barbarian World • Ultrahyperball World • Demon World • Alien World • Galaxy World • Temple World • Dragon World • Gothic Mystery World • Plant World • Animal Barbarian World • Toy World • Outer Space Court World • Robot World • Pirate World • Fairymania World • Steampunk World • Ball World • Ghost World • Rock, Paper, Scissor World • Beast World • Anime World • Sitcom World • Nothingness • Most Dangerous World Imaginable • Least Dangerous World Imaginable
Objects
Multi-Universe Hologram Uplink • Multi-Universe Transprojector • Pigoilet • The QPC Unit • Vortex Tops • Specs