"Robot Rodeo" is an episode of Phineas and Ferb.
Phineas and Ferb build a robotic rodeo in the backyard. Candace tries to prove she can focus so she can go to a concert with Stacy. Doofenshmirtz stalls to finish his entry into the Inator Creator competition.
Summary
Phineas
and
Ferb
are deciding on what to do for the day by their tree.
Isabella
then comes by, in her Fireside Girl outfit, wondering what they are doing, and Phineas responds with that was what they were trying to figure out. Phineas then wonders if Isabella needs any accomplishment patches. Isabella then looks at a notepad and says "Rodeo Clown Patch!".
Baljeet
and
Buford
walk in, and Baljeet then wonders what a rodeo clown does. Buford then tells Baljeet that they keep the riders on the bulls, and shoves Baljeet down. Baljeet then notices how that is helpful. Phineas says that they can build mechanical bulls and have a robot rodeo. Phineas then wonders where Perry went off to.
Major Monogram sees Agent P at Perry's lair. He tells Agent P that the League Of Villainous Evildoers Maniacally United For Frightening Investments in Naughtiness (L.O.V.E.M.U.F.F.I.N.) are having a huge gathering. All the other agents had been deployed, but none had reported back, with Monogram felling that they had been captured. Monogram then tells Agent P on what he can do. Monograms then signs out and Perry salutes.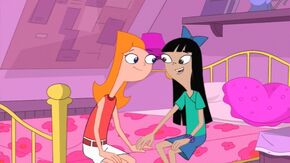 Candace
and
Stacy
are in the house, talking about Tiny Cowboy and Candace says it is her favorite band. Stacy has to shout to get her attention, then says that she can't go because of her mom does not want to got the concert with Candace. Candace wonders if Dr. Hirano likes her. Stacy says she liked her just fine, but says Candace is flighty and unfocused from time to time. Candace then get surprised when Stacy says that. Candace then hears Ferb building something. Stacy then tells Candace to be focused. Stacy says that Dr. Hirano wants her to go with someone grounded and more mature. Candace says that she can be that for long enough to convince Stacy's mom. Candace then reminds Stacy the time she pretended to be Irish for a whole week, of which Stacy remembered. They both now have a plan and scream. At the Quantity Inn, L.O.V.E.M.U.F.F.I.N. is welcome to the second annual Inator Creator contest and the winner from last year, Rodney come walking and shows off his trophy belt he had won. Rodney then takes it off and shows it up in the air for everyone to see. Heinz wants to take it home himself, saying he will build a greater inator this year, but not a grater with a block of cheese and nachos for everyone, an inator that is better than last year. Heinz then walks away to go start his inator.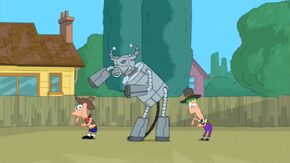 Back at the Flynn-Fletcher house, Stacy wants Candace to concentrate at her look. Candace says that the new look was a pair of fake glasses. Stacy says there is nothing for focus like fake glasses. Candace then hears a microphone and wonders what is going on outside and start to get the busting urge when she see it. Stacy tells her to be easy. Candace then starts to tell mom about it, but that was the reason Candace is flighty and unfocused. Candace then realizes that she must resist busting her brothers. Stacy says that is a big responsibility to do. Candace than tells about her mom. Linda then looks at cake and stays that is a sometimes food. Ferb then speaks and Robot Rodeo starts.
Perry heads to the Quantity Inn, opens a door, and gets trapped by Heinz, and complains that he was late and the other agents were on time and had been captured. Heinz then tosses him into the containment unit with the other agents are. Rodney then come by and tells to stop monologuing with the animals. Heinz tells him he will start to cry like something that tries. Three people, including Rodney, walk off laughing. Heinz says that Rodney makes him so angry because he is so right and needs time to make his inator. All he had was a fog machine that was adding pizazz to the presentation. He says that he could turn it on and fog up the whole contest so he could buy some time and gets an idea on how to it.
Candace and Stacy are walking out of the Flynn-Fletcher house with Stacy telling to be in a certain pose. The girls walk right to the rodeo and Candace is feeling a busting urge. Phineas says howdy to her and wonders if she is enjoying the rodeo. Candace is frustrated, but Stacy tells her to keep the eyes on the prize and stay in character. At Stacy's house, Linda wonders if Dr. Hirano was allowed to go to a concert when she was a teenager, but she says no. Candace and Stacy come by and Candace wonders if there is anything she can do. Linda wonders if this has anything to bust Phineas and Ferb. Candace says that would be childish on her. Stacy says that Candace is level-headed and responsible and not worried what Phineas and Ferb are doing. Candace gets the busting urge again, but Stacy elbow-pounds her a few seconds later and says that was childish.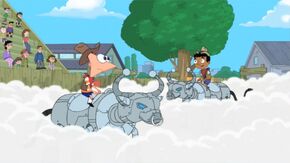 Heinz turns his fog machine on, fogging up the Quantity Inn, and eventually,
Danville
. Baljeet is concerned that is getting foggy and wonders if the rodeo should be called off, but Phineas says that he will incorporate it and have a foggy robot rodeo instead. Buford tells them they should see what he is doing, while Isabella says the fog is making her hair frizzy. Stacy says that it is nice to be focused and a live musical event would be good, but Candace gets yet another busting urge, with Stacy reminding her on Tiny Cowboy. Candace's busting urge gets the better of her and she tells her mom on what Phineas and Ferb are doing. Dr. Hirano comes by since is it something even she has to see. When Candace opens the door, all she can see is fog. The four walk to the rodeo, but Linda wants Candace to slow down.
Heinz is trying to finish his inator, but her hears cheers and wonder what all the noise outside is about and says his fog machine should have caused everyone to stop, but Rodney shows off his Fog Clearer-Inator, which places him in the lead. Heinz knows he can beat that if he has a little more time and looks at the large unit that has the agents in it. Linda wonders where is the backyard of her house is, and Candace tells to go a certain direction, smelling motor oil and confidence. Buford's bull is acting up weirdly. Heinz throws a piece of paper that shows the way for the agents to get out of the containment unit. Perry lifts all the agents outside of the unit. One of the members see that all the agents are free. Perry and the others start to destroy the others Inators-except Rodney's, since it is good for mankind. The agents start to fight the members afterward. Back at the rodeo, Buford says the balloon is making the bulls angry. Phineas says to a kid to let go of his balloon, but says that it cost him 50 cents. The other people scream at him to let go of the balloon, of which he does. the bulls knock off the riders and go after the balloon, taking the rodeo at they go after it.
Candace sees that the fog is lifting, but notices that the rodeo is missing. Candace stutters about it missing. Phineas says hi to her. Stacy is bummed out about not going for Tiny Cowboy, but Dr. Hirano ays that she and Candace can go the concert, saying Candace's single-minded determination to bust her brothers showed focus, which was something she hoped would rub off of Stacy, touching her shoulder. Heinz is finally finished with his Inator, and Rodney wonders if it is a Nator-Inator and laughs about it. Heinz says it is an Eradicate Rodney's Inator-Inator. The Inator smashes Rosdey's to bits, and Rodney says that is no fair and cries, of which Heinz says that is like a baby, which was thing he was looking for. It was also the last Inator standing, which made Heinz the winner by default, which was his favorite way to win, but the trophy belt was destroyed in the fight, but the balloon the kid let go a while ago had went to the judge's hands and gave it Heinz, who said a prize is a prize. He then called it
Balloony
II. The bulls come by and destroy the Quantity Inn. Phineas then sees Perry as they are by the tree. Isabella says this was fun, but walked off to wash her hair. The episode ends with Isabella dancing to
Izzy's Got the Frizzies
. After the songs ends, Isabella says the her hair is frizzy "because of the humidity!" from the fog caused the frizzy hair she had.
Songs
Characters in the episode
Running Gags
The "Too Young" Line
None.
Ferb's Line
Ferb
:
(background voice)
Cowgirls and cowpokes, welcome to the Flynn-Fletcher Bro's Rodeo!
Ferb: All right, cowboys and cowgirls, it's time to get along, little doggie. Or even a short little doggie. I'm here all week. Try the veal!
Whatcha doin'?
Isabella
: Hey, guys. Whatcha doin'?
Phineas: Well, that's what we're trying to figure out right now. Hey, are you Fireside Girls missing any specific accomplishment patches?

Isabella
: Let's see, what's next on the list? Rodeo Clown patch!
Perry's entrance to his lair
None.
Memorable Quotes
Baljeet
: What's a rodeo clown?
Buford: Someone who keeps the bulls from knocking you over like this...
Buford knocks Baljeet over

Baljeet
: I can see how that would be useful.
Candace
: I must repress my basic urges to bust.
Stacy: Repressing basic urges to bust is pretty responsible, isn't it?
Candace: Is it ever! Just look at my Mom!

Linda
:
(in the kitchen, staring at a cake)
Cake is a sometimes food; cake is a sometimes food!
Linda
: Candace, we've been walking forever! Where is the backyard?
Candace: Hmm (sniffs) That way! I can smell Phineas and Ferb!
Dr. Hirano: And what exactly do they smell like?

Candace
: Motor oil and confidence!
Doofenshmirtz: By default! My favorite way to win!
Doofenshmirtz: I'll call you Balloony II.
Female singer
: And now she's gonna tell you how... Izzy Got the Frizzies!
Isabella
: It's because of the humidity.
Background Information
All of the agents' fedoras (except Peter The Panda and a raccoon agent #3) are darker like Perry's.
This is Dr. Hirano's first extended dialogue in the series.
Production Information
This is the longest an episode (along with The Lizard Whisperer) has been delayed from Disney XD to Disney Channel.
International Premieres
April 24, 2010 (Disney XD UK and Ireland)
June 25, 2010 (Disney Channel Australia and New Zealand)
July 3, 2010 (Disney Channel Asia)
July 3, 2010 (Disney XD Spain)
August 27, 2010 (Disney Channel Spain)
September 12, 2010 (Disney XD Scandinavia)
Continuity
Errors
When Stacy is telling Dr. Hirano about how responsible Candace is, her bracelets are ring then beads and then in the next scene it is back to beads then ring.
When the cows run out of the house, dragging the stage with them, there should be people in the stage. However, no one is seen, and yet none remains in the ground either.
Rodney, along with the other evil scientists, builds an "inator", but in "A Real Boy" and "Bullseye!" uses the suffix "izer" for his inventions.

Which also makes Doofenshmirtz inator's name wrong: It should have been "Eradicate-Rodney's-Izer Inator", not "Eradicate-Rodney's-Inator Inator". However, he might have not known that Rodney makes "Izers".
Allusions
The inator creator convention is held at the Quantity Inn, a parody of the Quality Inn chain.
Sesame Street - Linda repeats a mantra of "Cake is a sometimes food", a parody of a song sung by Hoots the Owl to Cookie Monster, A Cookie is a Sometime Food.
Linda's scene with the cake may also be a reference to her voice actress's time as the host of "The Biggest Loser".
The Great Escape - Perry bounces a baseball against the wall of the containment trap, just like in the movie.
The judge's voice is an imitation of talk show host Ed Sullivan.
The Adventures of Jimmy Neutron: Boy Genius - The cows spit out nuts and bolts like Goddard and there are similar robotic bulls in the episode Fowl Bull.
Ferb saying "Try the veal" is a stereotypical sign-off of comics in Las Vegas.
WWE - The grand prize for the Inator Creator contest is a golden belt.
The host of the inator creator convention looks similar to Hans Gruber from Die Hard.
The judge's voice is an imitation of talk show host Ed Sullivan.
v - e - d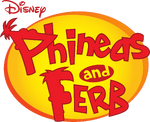 Episodes
Season One: "Rollercoaster" • "Candace Loses Her Head" • "The Fast and the Phineas" • "Lawn Gnome Beach Party of Terror" • "The Magnificent Few" • "S'Winter" • "Are You My Mummy?" • "Flop Starz" • "Raging Bully" • "Lights, Candace, Action!" • "Get That Bigfoot Outta My Face!" • "Tree to Get Ready" • "It's About Time!" • "Jerk De Soleil" • "Toy to the World" • "One Good Scare Ought to Do It!" • "A Hard Day's Knight" • "I, Brobot" • "Mom's Birthday" • "Journey to the Center of Candace" • "Run Away Runway" • "I Scream, You Scream" • "It's a Mud, Mud, Mud, Mud World" • "The Ballad of Badbeard" • "Dude, We're Getting the Band Back Together" • "Ready for the Bettys" • "The Flying Fishmonger" • "Phineas and Ferb Get Busted!" • "Greece Lightning" • "Leave the Busting to Us!" • "Crack That Whip" • "The Best Lazy Day Ever" • "Boyfriend From 27,000 B.C." • "Voyage to the Bottom of Buford" • "Put That Putter Away" • "Does This Duckbill Make Me Look Fat?" • "Traffic Cam Caper" • "Bowl-R-Ama Drama" • "The Monster of Phineas-n-Ferbenstein" • "Oil on Candace" • "Unfair Science Fair" • "Unfair Science Fair Redux (Another Story)" • "Out to Launch" • "Got Game?" • "Comet Kermillian" • "Out of Toon" • "Hail Doofania!"


Season Two: "The Lake Nose Monster" • "Interview With a Platypus" • "Tip of the Day" • "Attack of the 50 Foot Sister" • "Backyard Aquarium" • "Day of the Living Gelatin" • "Elementary My Dear Stacy" • "Don't Even Blink" • "Chez Platypus" • "Perry Lays an Egg" • "Gaming the System" • "The Chronicles of Meap" • "Thaddeus and Thor" • "De Plane! De Plane!" • "Let's Take a Quiz" • "At the Car Wash" • "Oh, There You Are, Perry" • "Swiss Family Phineas" • "Hide and Seek" • "That Sinking Feeling" • "The Baljeatles" • "Vanessassary Roughness" • "No More Bunny Business" • "Spa Day" • "Phineas and Ferb's Quantum Boogaloo" • "Phineas and Ferb Musical Cliptastic Countdown" • "Bubble Boys" • "Isabella and the Temple of Sap" • "Cheer Up Candace" • "Fireside Girl Jamboree" • "The Bully Code" • "Finding Mary McGuffin" • "Picture This" • "Nerdy Dancin'" • "What Do It Do?" • "Atlantis" • "Phineas and Ferb Christmas Vacation!" • "Just Passing Through" • "Candace's Big Day" • "I Was a Middle Aged Robot" • "Suddenly Suzy" • "Undercover Carl" • "Hip Hip Parade" • "Invasion of the Ferb Snatchers" • "Ain't No Kiddie Ride" • "Not Phineas and Ferb" • "Phineas and Ferb-Busters!" • "The Lizard Whisperer" • "Robot Rodeo" • "The Beak" • "She's the Mayor" • "The Lemonade Stand" • "Phineas and Ferb Hawaiian Vacation" • "Summer Belongs to You!" • "Nerds of a Feather" • "Wizard of Odd" • "We Call it Maze" • "Ladies and Gentlemen, Meet Max Modem!" • "The Secret of Success" • "The Doof Side of the Moon" • "Split Personality" • "Brain Drain" • "Rollercoaster: The Musical!" • "Make Play" • "Candace Gets Busted"
Season Three: "The Great Indoors" • "Canderemy" • "Run, Candace, Run" • "Last Train to Bustville" • "Phineas' Birthday Clip-O-Rama!" • "The Belly of the Beast" • "Moon Farm" • "Ask a Foolish Question" • "Misperceived Monotreme" • "Candace Disconnected" • "Magic Carpet Ride" • "Bad Hair Day" • "Meatloaf Surprise" • "Phineas and Ferb Interrupted" • "A Real Boy" • "Mommy Can You Hear Me?" • "Road Trip" • "Tour de Ferb" • "Skiddley Whiffers" • "My Fair Goalie" • "Bullseye!" • "That's the Spirit" • "The Curse of Candace" • "Escape from Phineas Tower" • "Lotsa Latkes" • "Ferb Latin" • "A Phineas and Ferb Family Christmas" • "Tri-Stone Area" • "Doof Dynasty" • "Excaliferb" • "Phineas and Ferb and the Temple of Juatchadoon" • "Monster from the Id" • "Gi-Ants" • "The Remains of the Platypus" • "Mom's in the House" • "Perry the Actorpus" • "Let's Bounce" • "Bully Bromance Break Up" • "Quietest Day Ever" • "Doonkleberry Imperative" • "Meapless in Seattle" • "Delivery of Destiny" • "Buford Confidential" • "The Mom Attractor" • "Cranius Maximus" • "Agent Doof" • "Minor Monogram" • "What a Croc!" • "Sleepwalk Surprise" • "Sci-Fi Pie Fly" • "Sipping with the Enemy" • "Tri-State Treasure: Boot of Secrets" • "Doofapus" • "Norm Unleashed" • "Where's Perry?" • "Ferb TV" • "When Worlds Collide" • "What'd I Miss?" • "Road to Danville" • "This is Your Backstory" • "Blackout!"
Season Four: "For Your Ice Only " • "Happy New Year!" • "Fly On the Wall" • "Bully Bust" • "My Sweet Ride" • "Der Kinderlumper" • "Sidetracked" • "Primal Perry" • "Mind Share" • "Backyard Hodge Podge" • "Bee Day" • "Bee Story" • "Great Balls of Water" • "Where's Pinky?" • "Phineas and Ferb Musical Cliptastic Countdown Hosted by Kelly Osbourne" • "Knot My Problem" • "Just Desserts" • "La Candace-Cabra" • "Happy Birthday, Isabella" • "Love at First Byte" • "One Good Turn" • "Mission Marvel" • "Thanks But No Thanks" • "Troy Story" • "Druselsteinoween" • "Terrifying Tri-State Trilogy of Terror" • "Face Your Fear" • "Cheers for Fears" • "Steampunx" • "Just Our Luck" • "Return Policy" • "Live and Let Drive" • "Phineas and Ferb Save Summer" • "Father's Day" • "Imperfect Storm" • "The Return of the Rogue Rabbit" • "It's No Picnic" • "The Klimpaloon Ultimatum" • "Operation Crumb Cake" • "Mandace" • "Phineas and Ferb: Star Wars" • "Lost in Danville" • "The Inator Method" • "Night of the Living Pharmacists" • "Tales from the Resistance: Back to the 2nd Dimension" • "Doof 101" • "Act Your Age" • "Last Day of Summer" • "O.W.C.A. Files"