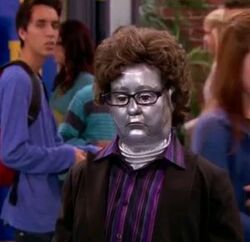 Robo Perry
 is a character from
Lab Rats
.
History
She is a robot created by Donald Davenport and is designed to roam the halls, handing out detentions to students while Terry Perry is away. She is a robotic version of Principal Perry and patrols the hallways in Mission Creek High. She makes her appearance in "Perry 2.0." She was later destroyed at the end of the episode by Perry.
She is portrayed by Maile Flanagan.
Ad blocker interference detected!
Wikia is a free-to-use site that makes money from advertising. We have a modified experience for viewers using ad blockers

Wikia is not accessible if you've made further modifications. Remove the custom ad blocker rule(s) and the page will load as expected.