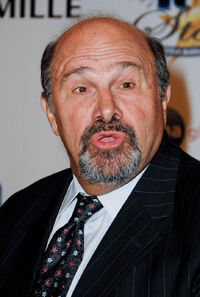 Robert Jason Costanzo (born November 20, 1942) is an American actor.
For Disney, he provided the voice of Philoctetes (Phil) for Hercules: The Animated Series, House of Mouse and throughout all the current Kingdom Hearts video games and other Disney video games featuring Phil. Constanzo also appeared on the Disney Channel TV series Hannah Montana in 2007 and 2010 as Al Blaine and Jersey Guy, Lips' Bodyguard in Dick Tracy, Coach Fanelli in Air Bud: Golden Receiver and the ABC TV show Castle as Sal.
Ad blocker interference detected!
Wikia is a free-to-use site that makes money from advertising. We have a modified experience for viewers using ad blockers

Wikia is not accessible if you've made further modifications. Remove the custom ad blocker rule(s) and the page will load as expected.