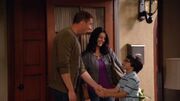 Rob
is a minor character that made an appearance in
Dog With a Blog
. He's portrayed by Gabriel Suttle.
History
Not much is known about him. He's one of Doctor James' patients, when he left with his mother, Bennett realized he stole his watch, hinting that he has this habit of taking things from others.
Appearances
History
Trivia
He was brought Bennett because he was stealing from others.
He's one of the first known patients of Bennett James.
Ad blocker interference detected!
Wikia is a free-to-use site that makes money from advertising. We have a modified experience for viewers using ad blockers

Wikia is not accessible if you've made further modifications. Remove the custom ad blocker rule(s) and the page will load as expected.