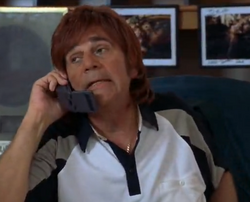 Rip Holland
 is the secondary antagonist of 
The Country Bears
.
Role in the film
He is an out-of-work concert promoter who is called on to promote the Country Bear comeback tour by Henry. He accepts to promote the show which would bring him back him back in business but at the end, he neglects to do it when Reed Thimple pays him not to promote the show; stating that "it's nothing personal, it's just business." They are both defeated when a large crowd shows up to enjoy the concert.
Gallery
Ad blocker interference detected!
Wikia is a free-to-use site that makes money from advertising. We have a modified experience for viewers using ad blockers

Wikia is not accessible if you've made further modifications. Remove the custom ad blocker rule(s) and the page will load as expected.