"Rip-Penn" is the twenty-eighth episode of the first season of Penn Zero: Part-Time Hero. It premiered on July 20, 2015.
Synopsis
Penn accidentally drinks a potion that turns him into a Rippen-monster, whenever he loses his temper.
Trivia
This is the first episode that premiered in another country before premiering in the US.
It is revealed that Brock and Vonnie know Rippen, foreshadowing that he is responsible for trapping them in the Most Dangerous World Imaginable. 
Boone reveals that Penn is afraid of sock puppets.
According to Larry, Penn has a B+ in Home Economics class.
The episode is an homage to the Robert Louis Stevenson novel The Strange Case of Dr. Jekyll and Mr. Hyde.
v - e - d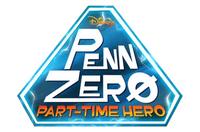 Locations
Middleburg • Middleburg Central High • The Odyssey • Fish Stick on a Stick • Knight World • North Pole • Superhero World • Arabian World • Plush Toy World • Chuckle City • Big Butte • Space World • Ocean World • Musical Fairy Tale World • Caveman Spy World • Alien World • Dragon Flight School • Plantywood • Most Dangerous World Imaginable • Least Dangerous World Imaginable
Objects
Multi-Universe Hologram Uplink • Multi-Universe Transprojector • Pigoilet • The QPC Unit • Vortex Tops • Specs
Ad blocker interference detected!
Wikia is a free-to-use site that makes money from advertising. We have a modified experience for viewers using ad blockers

Wikia is not accessible if you've made further modifications. Remove the custom ad blocker rule(s) and the page will load as expected.