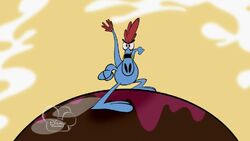 Ride Sylvia Ride is a song from "The Hat". It is played when Sylvia is 'surfing' the worm.
Lyrics
Ride, Sylvia, Ride
Ride, Sylvia, Ride
Glide, Sylvia, Glide
Now, Dive, Sylvia, Dive
Trivia
First song where Sylvia is alone in the song.
The song's music is the same background music during the Motorhog chase in "The Bad Guy".