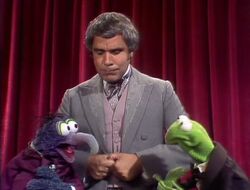 Rich Little (born November 26, 1938) is a Canadian-American impressionist and voice actor. He has long been known throughout the world as a top impersonator of famous people, resulting in his nickname, "The Man of a Thousand Voices" (not to be confused with the legendary voice actor, Mel Blanc, who also shared the title).
He appeared as himself on The Muppet Show in episode 204 and the Wonderful World of Disney episode "Mickey's 50th".
Gallery
Ad blocker interference detected!
Wikia is a free-to-use site that makes money from advertising. We have a modified experience for viewers using ad blockers

Wikia is not accessible if you've made further modifications. Remove the custom ad blocker rule(s) and the page will load as expected.