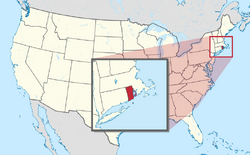 Rhode Island
, officially the State of Rhode Island and Providence Plantations, is a state in the New England region of the
United States
. Rhode Island is the smallest in area, the eighth least populous, but the second most densely populated of the 50 U.S. states. Rhode Island is bordered by
Connecticut
to the west and
Massachusetts
to the north and east, and it shares a water boundary with
New York
's Long Island to the southwest.
Rhode Island was the first of the 13 original colonies to declare independence from British rule, declaring itself independent on May 4, 1776, two months before any other colony. The State was also the last of the thirteen original colonies to ratify the United States Constitution.
Rhode Island's official nickname is "The Ocean State," a reference to the State's geography, since Rhode Island has several large bays and inlets that amount to about 14% of its total area. Its land area is 1045 square miles (2710 square kilometers), but its total area is significantly larger.
Events
Prior to the theatrical release, private screenings for Morning Light were held for yacht racing enthusiasts, including one hosted by Roy Disney for U.S. Sailing on March 14, 2008 in Newport, Rhode Island.
A fourth non-equity national tour of Beauty and the Beast (musical) began February 2010, opening in Providence, Rhode Island starring Liz Shivener as Belle and Justin Glaser as The Beast.
Actors and Crew born in Rhode Island
Gallery
Ad blocker interference detected!
Wikia is a free-to-use site that makes money from advertising. We have a modified experience for viewers using ad blockers

Wikia is not accessible if you've made further modifications. Remove the custom ad blocker rule(s) and the page will load as expected.