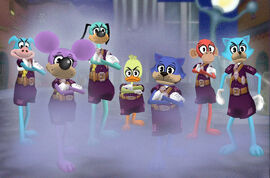 Resistance Rangers
are part of the
Toon Council
. They helped in
Operation: Storm Sellbot
of
2010
. They also appeared again, helping
Toons
with their Toontasks in the Toontask Derby Contest. They are not seen often, only on special occasions, they are powerful Toons who support regular Toons in during uniqe events. Shall we see them in the future?
Trivia
They are similar to the Toon Troopers because they can give Toon-Ups, Jellybeans, etc.
They do NOT make mistakes in battle because of their amazing strategies.
During events, they talk to Toons giving them hints about the event they're in.

Ad blocker interference detected!
Wikia is a free-to-use site that makes money from advertising. We have a modified experience for viewers using ad blockers

Wikia is not accessible if you've made further modifications. Remove the custom ad blocker rule(s) and the page will load as expected.