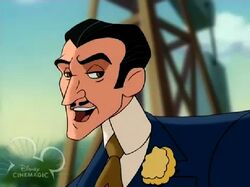 Renard Dumont
is a recurring character from
The Legend of Tarzan
. A French entrepreneur, he establishes a trading post near Tarzan's jungle, which ends up disrupting the local Rhino herd. He was voiced by
René Auberjonois
.
Personality
He is a savvy businessman who loves money and acts rather suave and polite to others. He enjoys scamming people and is rather indifferent to the jungle inhabitants, telling Tarzan he does not wish to harm or help the animals. Despite this, he does respect Tarzan, understanding it is better to have him as an ally not an enemy and often warns poachers that Tarzan is protective of the jungle. He also often recommends Tarzan as a guide when people ask for someone to lead them through the jungle. He is also enamored with Jane and frequently tries to charm her away from Tarzan, to no avail as she loves only Tarzan.
Gallery
Ad blocker interference detected!
Wikia is a free-to-use site that makes money from advertising. We have a modified experience for viewers using ad blockers

Wikia is not accessible if you've made further modifications. Remove the custom ad blocker rule(s) and the page will load as expected.