The Remote is a main story object in Epic Mickey and one of the two main weapons in Epic Mickey 2: The Power of Two.
It functions as Oswald's counterpart to Mickey's paintbrush, and can be used in a variety of ways. It fires electricity to power consoles and can also stun enemies and reprogram machines.
Story
To be added...
Appearance
Gameplay/2D Cut-scenes
In-game, the remote is about the size of a calculator. It resembles a silver box with a green radio frequency, a round antenna, and a big red button in the center.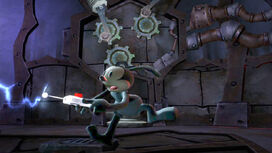 Trivia
This remote is the same one used to ignite the fireworks to defeat the Shadow Blot at the end of the first Epic Mickey.
Ad blocker interference detected!
Wikia is a free-to-use site that makes money from advertising. We have a modified experience for viewers using ad blockers

Wikia is not accessible if you've made further modifications. Remove the custom ad blocker rule(s) and the page will load as expected.