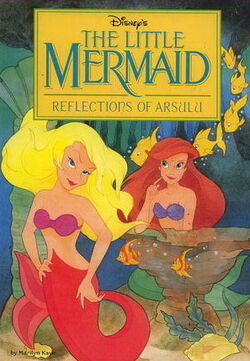 Reflections of Arsulu is a novelization in The Little Mermaid franchise.
Plot
Adella meets up with a blonde mermaid named Arsulu, and invites her to the palace while the latter was searching for her boyfriend. However, after some problems arise at Atlantica during Arsulu's stay, Ariel gets suspicious of the mermaid, and eventually tails her, discovering that she was actually an alias for Ursula. Ariel then manages to use her weakness of reflections to expose her to her family via a flock of goldfish.
Trivia
The setting of the book takes place in an indeterminant time prior to the first film.
Ad blocker interference detected!
Wikia is a free-to-use site that makes money from advertising. We have a modified experience for viewers using ad blockers

Wikia is not accessible if you've made further modifications. Remove the custom ad blocker rule(s) and the page will load as expected.