Redd Rockett's Pizza Port is a futuristic, quick-service/casual dining Italian restaurant located in between Innoventions, Captain EO, and Space Mountain, on the north end of Tomorrowland in Disneyland. Known for its pizza, pasta and salad, Redd Rocket's Pizza Port features a wide variety of Italian fare.
Seating is located inside and outside the restaurant for convenience. Outside guests can admire a wide view of Tomorrowland's center or watch children playing at the fountain, while eating their meals. Or, in the inside the restaurant, guests can enjoy the interior of the port, lined with attraction posters of past Tomorrowland attractions. The restaurant itself is sponsored by Buitoni, an Italian food brand owned by Swiss food company Nestlé. As a simple pizza place, Redd Rockett's Pizza Port does not offer reservations.
Disneyland Description
"When you're ready to cool your jets, head to this futuristic quick-service "spaceport" for Italian fare that'll send you over the moon."
History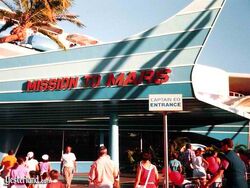 Redd Rockett's Pizza Port first opened its doors to Disneyland guests on May 22, 
1998
 with the opening of New Tomorrowland. The restraunt itself is located in the former location of the
Mission to Mars
attraction, which closed on 
November 2
,
1992
. The former atrraction offered daily "flights" to the red planet, Mars, from
1975
to
1992
. Before Mission Mars, and before the
1969
lunar landing, guests at the park were also able to take flights to the moon.
Menu
Pasta
Pizza
Supernova Pizza Special
Mega Pepperoni - Slice
Venus Vegetarian - Slice
Lunar Cheese - Slice
Mega Pepperoni - Whole Pizza
Venus Vegetarian - Whole Pizza
Salads
Planetary Pizza Salad
Asian Chicken Salad
Celestial Caesar Chicken Salad
Caesar Salad
Starfield of Greens featuring Ocean Spray Craisins Brand
Sides
Bread Sticks
Starfield of Greens
Large Bag of Chips
Mickey Check Meal
Space-ghetti with Meatballs
Kids' Meals
Toddler Meal
Desserts
Chocolate Parfait
Fresh Fruit and Non-fat Vanilla Yoghurt Parfait
Public Reception
Overall, Redd Rockett's Pizza Port received good reviews from critics and Disney-goers with a rating of 3.5 stars on Yelp based on 283 reviews.  Common complaints include portion size and price however many guests argue that the flavour and quality of the food out weigh the prices.  On Urban Spoon, Redd Rockett's Pizza Port was afforded an 80% rating based 57 on reviews for being expensive but easily accessible with fast food.
According to Tripadvisor Redd Rockett's Pizza Port has: "Good food but it super expensive."  The cite awarded the eatery with 3.5 stars (from 21 reviews) for its service, atmosphere, food, and value.
Overall, Redd Rockett's Pizza Port has an average rating of around a 73.3 percent.
Gallery