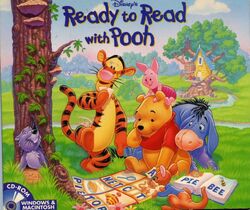 Ready to Read with Pooh is the Disney interactive CD-ROM that helps youngsters ages three to six learn to read. There are nine activities in the game. When youngsters complete an activity successfully, they will receive a doily.
Activities
Main article: Ready to Read with Pooh/Walkthrough
West Woods
Pooh's Honey Pots
Piglet's Cabnets
Tiggers Don't Climb Trees
East Woods
Tigger's Bouncin' Boxes
Owl's Poetry
Detective Tigger
North Woods
Rabbit's Signs
Let's Pretend
Eeyore's Tattered Books
Rewards earned
Pooh's Honey Pots

Level 1: Welcome mat
Level 2: Area rug
Level 3: Flag

Piglet's Cabnets

Level 1: Pinwheel
Level 2: Top
Level 3: Yo-yo

Tiggers Don't Climb Trees

Level 1: Kite
Level 2: Windchime
Level 3: Rubber band plane

Tigger's Bouncin' Boxes

Level 1: Cookoo clock
Level 2: Jack-in-the-box
Level 3: Rocking chair

Owl's Poetry

Level 1: Xylophone
Level 2: Accordian
Level 3: Guitar

Detective Tigger

Level 1: Magnifying glass
Level 2: Fingerprint powder
Level 3: Bubble pipe

Rabbit's Signs

Level 1: Drum
Level 2: Noisemaker
Level 3: Gong

Let's Pretend

Level 1: Boomerang
Level 2: Alphabet blocks
Level 3: Puppet

Eeyore's Tattered Books

Level 1: Blue book
Level 2: Purple book
Level 3: Red book
Voices
Also See
| | |
| --- | --- |
| | This page uses content from the English Wikipedia. The article or pieces of the original article was at Ready to Read with Pooh. The list of authors can be seen in the page history. As with Disney Wiki, the text of Wikipedia is available under the GNU Free Documentation License. |
Ad blocker interference detected!
Wikia is a free-to-use site that makes money from advertising. We have a modified experience for viewers using ad blockers

Wikia is not accessible if you've made further modifications. Remove the custom ad blocker rule(s) and the page will load as expected.