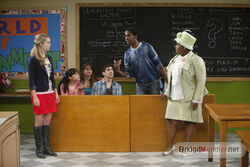 Raymond
is Ivy Wentz's crush in "Let's Potty." He later becomes Ivy's boyfriend. He is in government class with Ivy and Teddy.
Relationships
Ivy has a crush on Raymond. At the Duncan house, they hug and become a couple. Ivy calls Raymond Ray-Ray, and Raymond calls her I-I. Raymond seems to like Ivy back.
Teddy plays matchmaker to hook Ivy and Raymond up together. ("Let's Potty").
Raymond and Spencer are good friends. ("The Singin' Dancin' Duncans").
Appearances
"Let's Potty" (First appearance)
"The Singin' Dancin' Duncans"
Ad blocker interference detected!
Wikia is a free-to-use site that makes money from advertising. We have a modified experience for viewers using ad blockers

Wikia is not accessible if you've made further modifications. Remove the custom ad blocker rule(s) and the page will load as expected.