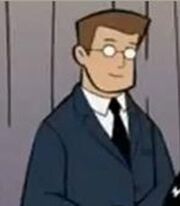 Raycliff
 (voiced by Jeff Probst)
[1]
[2]
is the vice principal of X Middle School and Folsom's right-hand man.
History
Raycliff and Folsom seem to go back, and there's a possibility that they both attended X, according to an old school album. Like Folsom, Raycliff is also more of a background character, although as part of the main cast, they sometimes play major roles as well. Raycliff is known for being reticent more often than not. But when he isn't, he's quick-witted when it comes to assisting Folsom with facts, figures and infectious metaphors pertaining to the school most of the time. In the episode [3], it is revealed he gets seasick.
Skills
Raycliff is adept and sharp-witted when it comes to repartee, as he thinks on his feet.
Case File
Name: Raycliff
Occupation: Vice Principal of X Middle School
Associates: Dawn S. Folsom
Organisations: Student Council, X Middle School Faculty
Episode Appearance
Gallery
References
Ad blocker interference detected!
Wikia is a free-to-use site that makes money from advertising. We have a modified experience for viewers using ad blockers

Wikia is not accessible if you've made further modifications. Remove the custom ad blocker rule(s) and the page will load as expected.