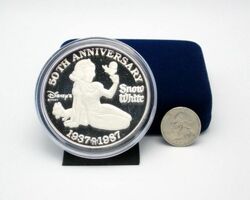 Rarities Mint was a manufacturer of coins for the Disney company as well as Warner Bros. The company evolved out of a boiler room operation that was involved in Precious Metal futures, in 1987 it signed its contract with the Disney Company to "Mint" coins featuring the likeness of the Disney Line up, embossed upon Silver and Gold coins.
The company was best known for creating an inflated market in the release of the coin sets in the Disney series Rarities Mint Collectible Coin of Snow White and the Seven Dwarfs. The company requiring minimum purchase that was often overwhelming to the dealers. In its later years, the company had difficulty as a result of the Disney series, and about 1995 the owner Ian Simpson, dissolved the company.[1]
References
External links
| | |
| --- | --- |
| | This page uses content from the English Wikipedia. The article or pieces of the original article was at Rarities Mint. The list of authors can be seen in the page history. As with Disney Wiki, the text of Wikipedia is available under the GNU Free Documentation License. |
Ad blocker interference detected!
Wikia is a free-to-use site that makes money from advertising. We have a modified experience for viewers using ad blockers

Wikia is not accessible if you've made further modifications. Remove the custom ad blocker rule(s) and the page will load as expected.