Rappin' Drakken
Comments

0
19,052pages on
this wiki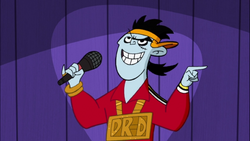 Rappin' Drakken
is a song performed by
Dr. Drakken
in the eighth episode of
Kim Possible
's third season. It explains his plan to use his newly-developed shampoo to brainwash the citizens of
Middleton
.
Dr. Drakken: (spoken) Shego, give me a beat!
Shego?
Give me a beat Shego.
SHEGO!
Fine. You want a beat done right...
(beatboxing)
Yo! Yo! Yo!
I used to be Drew!
One day I turned blue!
Like a suede shoe or berry!
It makes me look scary!
Then I pony-tailed my hair! Eee...
Got me a nasty scar,
And a funky fresh flying car!
Now Drew be Dr. Drakken,
So quit that yakking!
Think I'm out? Ha!
I'm back in!
My lippy sidekick Shego,
She kicks me in my ego!
Has the freaky glowing hands,
Mocks my super-genius plans!
Makes me do my defeat dance!
Grr...Had enough of these...G--G--Gaah!
Ga-aah!
Had dreams to rule the world,
Or build a better robot girl!
All ended in rejection
So after introspection
I turned my career in a new direction!
Thanks to one all-that teen,
Mr. Mean is squeaky clean!
Though my face is still blue,
Tell you what I can do!
Sell y'all some freaky shampoo!
Lather, rinse, and obey!
It's time to wash your hair today!
You may think I'm a villain,
Yo, I'm just chilling!
Come on let me hear you say,
Lather, rinse, and obey!
I'm a player just playing his play!
My product's in a rap song!
It's time to get your wash on,
With Dr. D's brainwashing shampoo And cranium rinse!
Fo' sheezy, off the heezy!