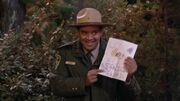 Ranger Brown
is a park ranger in
Dog With a Blog
. He's portrayed by Ithamar Enriquez.
Character History
Ranger Brown is a park ranger who was helping the James-Jennings family find Stan after he runs away.
When they found him, Avery asked to give them and Tyler some time alone, to which he agrees. Also, he wanna to talk about the "$4 Gazillion" reward he's due.
Trivia
Ranger Brown thought he was gonna get the "$4 Gazillion" reward for finding Stan after reading Chloe's flyer.
Ranger Brown taking the "$4 Gazillion" reward is understanding on how park rangers get minimum wages.
Ad blocker interference detected!
Wikia is a free-to-use site that makes money from advertising. We have a modified experience for viewers using ad blockers

Wikia is not accessible if you've made further modifications. Remove the custom ad blocker rule(s) and the page will load as expected.