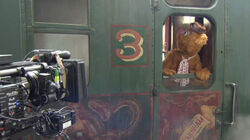 The Randy Stevenot No. 3. is an old circus train used by the Muppets for their world tour in the 2014 film, Muppets Most Wanted. Beauregard serves as engineer for the group's trip across Europe.
Trivia:
The locomotive is actually 'Captain Baxter', a British locomotive from the Bluebell Railway in Sussex. It was modified with cowcatchers, a fake whistle, lamp, 'balloon stack' chimney cowl, etc. and weathered heavily. It hauled a Southern 25T brake van and a Mk1 coach for the film.
During filming, things such as the silver American carriage side seen on-screen with 'Randy Stevenot' are actually props, as it was filmed on the Bluebell Railway.
After filming, the modifications were all removed and the locomotive was returned to its original condition.
Gallery