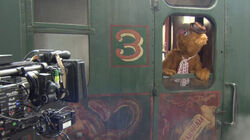 The Randy Stevenot No. 3. is an old circus train used by the Muppets for their world tour in the 2014 film, Muppets Most Wanted. Beauregard serves as engineer for the group's trip across Europe.
Gallery
Ad blocker interference detected!
Wikia is a free-to-use site that makes money from advertising. We have a modified experience for viewers using ad blockers

Wikia is not accessible if you've made further modifications. Remove the custom ad blocker rule(s) and the page will load as expected.