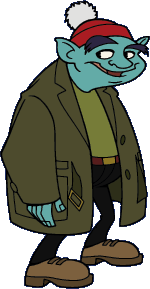 Ralph The Goblin
[1]
[2]
(voiced by
John DiMaggio
) is a fictional character from
Disney
's animated series
American Dragon: Jake Long
. He is a goblin seen in "
Shapeshifter
". He never make a reappearance afterwards (not even in Season 2).
History
He used to be working for the Huntsclan by capturing the "Orb Of Malarfuse". He is now Fu Dog's sidekick. He doesn't have a lizard tail like other goblins, but he still has a keen sense of smell. Lao Shi and Fu Dog will set Ralph free if he helps sniff out Jake from the Huntsclan[3].
Quotes
"Ralph is not that big to the hips"
Gallery
References