Not to be confused with Ralph and Eddie from Timon and Pumbaa.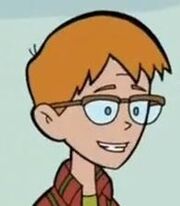 Ralph Eddie
is one of the guest characters of
Disney Channel
's
Fillmore!
. He is voiced by Chris Marquette.
Biography
He appeared in "Next Stop, Armageddon" along with Tara Oktavia, Oscar Guirerro, and Konductor Kid. He watched the train riding along with the flying helicopter and the trains were destroyed as the Safety Patrol investigates.
Episode Appearance
Ad blocker interference detected!
Wikia is a free-to-use site that makes money from advertising. We have a modified experience for viewers using ad blockers

Wikia is not accessible if you've made further modifications. Remove the custom ad blocker rule(s) and the page will load as expected.