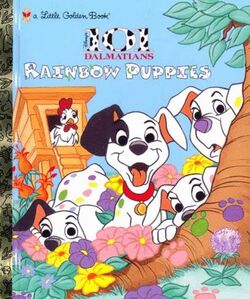 Raindow Puppies is a 1998 Little Golden Book featuring the characters from One Hundred and One Dalmatians. This book is a continuation of the classic Disney tale, see the antics of the puppies after going to the Dalmatian Plantation.
Details
Age Range: 3 and up
Hardcover: 24 pages
Publisher: Golden Books; 1st edition (January 1998)
Language: English
ISBN-10: 0307988589
ISBN-13: 978-0307988584
Gallery
Ad blocker interference detected!
Wikia is a free-to-use site that makes money from advertising. We have a modified experience for viewers using ad blockers

Wikia is not accessible if you've made further modifications. Remove the custom ad blocker rule(s) and the page will load as expected.