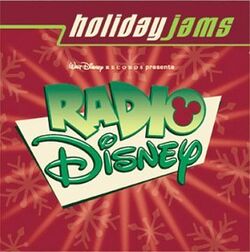 Radio Disney Holiday Jams is a holiday album by Radio Disney, released in 2000. Radio Disney Holiday Jams 2 was released in 2002. On December 8, 2002 the album peaked on the Billboard charts, reaching #24 on the Holiday Albums chart, #19 on the Catalog Albums charts, and #4 on the Kids Albums chart.
Tracklist
"The Chipmunk Song (Christmas Don't Be Late)" - The Chipmunks
"Little Saint Nick" - Beach Boys
"Grandma Got Run Over By The Reindeer" - Elmo & Patsy
"Rockin' Around The Christmas Tree" - Brenda Lee
"Santa Claus Is Coming To Town" - Jackson 5
"Jingle Bell Rock" - Bobby Helms
"A Holly Jolly Christmas" - Burl Ives
"Merry Christmas, Happy Holidays" - *NSYNC
"Macarena Christmas" - Los Del Rio
"Jingle Bells" - Singing Dogs
"Sleigh Ride" - Spice Girls
"Last Christmas" - Billie
"As Long As There's Christmas" - Peabo Bryson and Roberta Flack
"Deck The Halls" - SHeDAISY
"Frosty The Snowman" - Myra
Details
Audio CD (October 31, 2000)
Number of Discs: 1
Label: Walt Disney Records
ASIN: B00004Z51B
| | |
| --- | --- |
| | This page uses content from the English Wikipedia. The article or pieces of the original article was at Radio Disney Jams series#Holiday Jams. The list of authors can be seen in the page history. As with Disney Wiki, the text of Wikipedia is available under the GNU Free Documentation License. |
Ad blocker interference detected!
Wikia is a free-to-use site that makes money from advertising. We have a modified experience for viewers using ad blockers

Wikia is not accessible if you've made further modifications. Remove the custom ad blocker rule(s) and the page will load as expected.