Ad blocker interference detected!
Wikia is a free-to-use site that makes money from advertising. We have a modified experience for viewers using ad blockers

Wikia is not accessible if you've made further modifications. Remove the custom ad blocker rule(s) and the page will load as expected.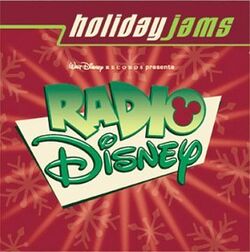 Radio Disney Holiday Jams is a holiday album by Radio Disney, released in 2000. Radio Disney Holiday Jams 2 was released in 2002. On December 8, 2002 the album peaked on the Billboard charts, reaching #24 on the Holiday Albums chart, #19 on the Catalog Albums charts, and #4 on the Kids Albums chart.
Tracklist
"The Chipmunk Song (Christmas Don't Be Late)" - The Chipmunks
"Little Saint Nick" - Beach Boys
"Grandma Got Run Over By The Reindeer" - Elmo & Patsy
"Rockin' Around The Christmas Tree" - Brenda Lee
"Santa Claus Is Coming To Town" - Jackson 5
"Jingle Bell Rock" - Bobby Helms
"A Holly Jolly Christmas" - Burl Ives
"Merry Christmas, Happy Holidays" - *NSYNC
"Macarena Christmas" - Los Del Rio
"Jingle Bells" - Singing Dogs
"Sleigh Ride" - Spice Girls
"Last Christmas" - Billie
"As Long As There's Christmas" - Peabo Bryson and Roberta Flack
"Deck The Halls" - SHeDAISY
"Frosty The Snowman" - Myra
Details
Audio CD (October 31, 2000)
Number of Discs: 1
Label: Walt Disney Records
ASIN: B00004Z51B
| | |
| --- | --- |
| | This page uses content from the English Wikipedia. The article or pieces of the original article was at Radio Disney Jams series#Holiday Jams. The list of authors can be seen in the page history. As with Disney Wiki, the text of Wikipedia is available under the GNU Free Documentation License. |