Ad blocker interference detected!
Wikia is a free-to-use site that makes money from advertising. We have a modified experience for viewers using ad blockers

Wikia is not accessible if you've made further modifications. Remove the custom ad blocker rule(s) and the page will load as expected.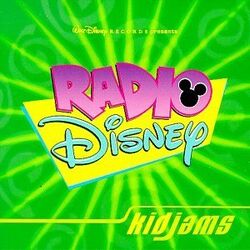 Radio Disney: Kid Jams is the first album in the Radio Disney Jams Series. It is a compilation of artists whose songs are played on Radio Disney.
Tracks
"Get Ready for This" - 2 Unlimited - 3:45
"Quit Playing Games (With My Heart)" - Backstreet Boys - 3:52
"Pump Up the Jam" - Technotronic - 5:17
"River" - Hanson - 3:59
"Whoomp! (There It Went)" - Tag Team - 3:32
"Macarena" - Los Del Rio - 5:04
"Hakuna Matata" (From The Lion King) - 3:33
"Yoda" - "Weird Al" Yankovic - 4:16
"U Can't Touch This" - MC Hammer - 4:15
"I'll Make a Man Out of You" (From Mulan) - Donny Osmond - 3:19
"Go, Speed Racer, Go!" - Sponge - 3:07
"Ghostbusters" - Ray Parker, Jr. - 4:18
"Wipeout" - Steve Vai - 2:53
"I Got You (I Feel Good)" - James Brown - 2:47
"Let's Get Together" - MMC - 4:34
"I Am Rubber" - I-8-Paste (Just Plain Mark & Zippy) - 2:16
"I'll Be There for You" - Solid HarmoniE - 3:10
Details
Audio CD (March 16, 1999)
Original Release Date: March 16, 1999
Number of Discs: 1
Label: Walt Disney Records Disney Records
ASIN: B00000HYXD
| | |
| --- | --- |
| | This page uses content from the English Wikipedia. The article or pieces of the original article was at Radio Disney Jams series#Kid Jams. The list of authors can be seen in the page history. As with Disney Wiki, the text of Wikipedia is available under the GNU Free Documentation License. |