"
Phineas, Ferb, Mom put me on noise patrol while she's taking her online test, she needs there to be absolutely quiet!
"

— Candace Flynn
"Quietest Day Ever" is an episode of Phineas and Ferb.
After Mom asks the kids to keep quiet while she prepares for her online knitting test, Phineas and Ferb create ninja outfits designed to hide the wearer from anyone who is not wearing them. Meanwhile, Candace becomes increasingly frustrated after she can't find the boys and bust them. Across town, Dr. Doofenshmirtz invents the De-Handsome-Inator.
Summary
Phineas, Ferb and their friends are playing a "robot attack" game with Buford's robot suit, but he trips over a lamp. Linda tells Candace that she wants everyone to be quiet while she is taking her online knitting test, and is leaving Candace in charge. Candace tells the boys to be "quiet and invisible", giving Phineas the idea to make ninja suits.
Major Monogram tells Perry that Doofenshmirtz has been drawing ugly pictures onto handsome men on magazine covers, including one of Major Monogram, and is probably plotting something. After Perry leaves, Monogram begins to cry and ask why Doofenshmirtz did this to his photo. At Doofenshmirtz Evil Inc., Perry gets trapped in a giant apple. Doofenshmirtz says that the men on magazine covers are "mocking him", so he invented the De-Hadsome-Inator to make them hideous. Perry somehow escapes and attacks Doofenshmirtz, who tries to swat him with the magazine. He hits the switch on the inator, changing the setting to handsome, and it zaps him. He doesn't know he is handsome, so just leaves to get lunch with Perry.
Phineas, Ferb and their friends have their ninja suits on, and when Candace walks out, they activate them, and the suits hide themselves from Candace. In the living room, Candace can't see them, but can still feel their presence, so she looks around for them. Phineas, still avoiding her, tells her to put on her suit, and she can see them, so Candace goes to do so. Everyone is giving Doofenshmirtz things and helping him, and all the girls like him. At lunch, the waiters give Doofenshmirtz and Perry whatever they want, and someone takes a picture of Doofenshmirtz. He sees the framed picture and thinks it got mixed up, but then Perry shows him a mirror.
As they were leaving the diner, Doofenshmirtz was complaining about disliking everything, though he was handsome. Then, he explains to Perry how handsome people are given whatever the want, when or wherever they want it. Just then, a woman offers to give her baby to Doofenshmirtz, claiming it likes him more than her. Quickly, Doofenshmirtz refuses to accept the baby. Back at home, Candace was wearing her ninja suit and tries to show her mom, but she was still busy taking her knitting test. Each time Linda turned around to see what Candace was going on about, the costume caused her to move to another location. Finally, Candace takes the costume off, but the costume jumps out the window before Linda looks.
Meanwhile, the citizens were still oogling over Heinz. Just then, his brother, Rodger, is very impressed that Doofenshmirtz has finally grown into his looks at age 47. He is about to crown him leader of the Tri-State Area, and Perry tries to shoot Doofenshmirtz with the De-Handesome-Inator, but commemorative balloons shaped like Doofenshmirtz get in his way. The kids take off their suits, and see Candace's suit behind the tree. They realize she still had it activated, making it hide from anyone who did not have the suits on. Candace pushes Linda's chair out of the den to show her the suits.
Perry comes up to City Hall with Doofenshmirtz' remote. Doofenshmirtz doesn't care, because of the balloons. But Perry shoots anyway. It bounces off a mirror taped to a balloon, one taped to a building, the windows of six cars, and a mirror taped to a pigeon flying over City Hall. It hits Doofenshmirtz, turning him back to his ugly self.
The kids activate their suits to put them away. The suits run away and hide before Linda sees them. The Inator bounces off the mirrors and hits itself. It hits Buford, and then blows up. Ferb mentions that Buford looks handsome, and Buford says it's a blessing and a curse.
Songs
Running Gags
The "Too Young" Line
Roger
: Well, well, well Heinz, I see that at the age of 47 you've finally grown into your looks.
Dr. Doofenshmirtz
: Yes. Yes, I have.
Ferb's Line
Ferb
: Did you ever notice in a certain light Buford looks sort of handsome?
Buford
: It's both a blessing and a curse.
Whatcha doin'?
None.
Hey, where's Perry?
Buford: Silent and invisible!? What am I, a ninja?
Phineas: That's It! Gang, I know what we're going to do today! Speaking of silent and invisible, where's Perry?
Perry's entrance to his lair
None.
Evil Jingle
Doofenshmirtz Evil Incorporated!
Memorable Quotes
Buford falls and makes a loud noise.
Candace: Knock it off!
Mom: Candace, I don't know what you kids are doing, but I taking a online knitting test in a few minutes, and I need it to be quiet around here. to Candace in a serious but in a sarcastic tone. You might remember quiet, I'm not sure you two ever met. Anyway I'm putting you on noise pantrol, You're in charge.
Candace: I'm in charge! Woo-hoo!! Yeah!!!
Mom: Use a muffler.

Candace
:
(Candace grabs and puts a cushion over her face.)
Oh, yeah. Woo-hoo!
Doofenshmirtz
: This is horrible! I can't be handsome, it's everything I despise! You see, Perry the Platypus, handsome people get all the good stuff! Watch this. Hey lady, Nice baby.
Unnamed mother: You want him? I think he likes you better.

Doofenshmirtz
: NO, I DON'T WANT YOUR BABY!
Phineas: By pressing the "on "button, the outfits puts themselves away. (Everybody presses the button on their ninja outfit and the outfits flip away from outer sight.)
Mom
: Oh hi kids. I want to thank you for being so quiet all afternoon, unlike someone I know.
Candace: But but-but...
Phineas: Hey Mom, how your test go?
Mom: Well lucky for Candace I just passed. Anyone for pie?
The kids:(Everybody jump for joy except Ferb) ME!
Mom:(In a stern tone.) March Candace.

Candace
:
(Pushes Mom away who is still in the computer chair.)
Sigh
.
Background Information
This is the first time Baljeet is seen wearing a ninja suit.
Doofenshmirtz's age is revealed (47).
Phineas and the gang play Robot Attack, which is also a game online.
Second time Doofenshmirtz is referred to as ugly ("The Best Lazy Day Ever"). He also makes his first ugly invention in that same episode.
The De-Handsome-inator in reverse produced a similar effect to cutonium in that it made Doofenshmirtz so handsome no one could resist his handsomeness (except for Perry, but this could simply be because he is a Platypus and not a human).
A picture of Candace when she was young hangs on the wall by the entrance to Linda's room.
Production Information
This episode was aired on Disney Channel on Demand on March 23, 2012.
This episode was paired with "Doonkleberry Imperative" when it originally aired on Disney Channel.
International Premieres
April 13, 2012 (Family Channel)
May 2, 2012 (Disney Channel Brazil & Latin America)
August 8, 2012 (Disney Channel Israel)
Errors
When Linda types in one of the answers to her quiz the whole answer simply appears on the computer screen instead of being typed. Also Linda's answer and the correct answer appeared before she even typed it in.
In the scene that Roger Doofenshmirtz is giving Heinz the speech "You have finally grown into your looks", the top stripe on his tie changes directions.
When Doofenshmirtz gets his picture taken in the cafe, he has a surprised look on his face. In the picture he is handed, he looks confused.
Linda would've failed the knitting test, due to constant Candace interruptions and getting dragged away from the computer.
When Candace brings Linda out, Isabella is smiling, but whenever the camera zooms in on Linda Isabella is frowning, and her position is different.
When Candace is searching for Phineas, Ferb and the gang in the hall, the door to Candace's room is open, and Candace opens the door next to it, revealing it to be Phineas and Ferb's room. This shouldn't be possible, as Candace's bedroom window faces the backyard, while the boys' room overlooks the front yard. Furthermore, the boys' bedroom window is placed directly across from their door, as is the case with Candace. This would make it impossible that the kids' rooms are side-by-side, as they would have to have windows facing the same direction, or windows that look out the sides of the house, instead of in the front and the back. Going by that evidence, their rooms would have to be directly across the hall, not beside each other. This could also be that she might have moved rooms.
The same two questions appear on Linda's test instead of changing.
When Linda is taking the test before she walks into a room right next to the front room but Candace has to walk down the hall to find her the next time.
Candace would've known better to turn the suit off before showing it to Linda.
When Buford is chasing the others in his robot costume, one scene doesn't show his neck showing.
At the beginning when everyone is running, only Isabella is heard screaming despite everyone's mouths are open.
When Candace says "Bust them!" her mouth doesn't move.
When Doofenshmirtz tries to blast Perry, the crowd is still there, but they all went to go read fashion magazines in the previous scene.
Technically, Candace was the one who would've got busted due to disturbing Linda.
During the song I'm Handsome, during the line "My hair is wavy..." a woman in the background can be seen fainting over her windowsill. During the line "Take a picture..." she is seen fainting again the same way with the same awning that was near her, but coming in from a different direction. This is most likely due to the fact that Doofenshmirtz was animated separately, and they flipped the background to make it look different.
Continuity
Allusions
Spider-Man - When Candace announces that "My busting senses are tingling", it is similar to Spider-Man's motto "My spider senses are tingling."
Ninja Sentai Kakuranger - The ninja outfits that Phineas, Ferb, Isabella, Buford, and Baljeet wear makes them resemble the Kakurangers from the 1994 Super Sentai season.
Fairest by Geil Carson Levine- When Linda said how can Candace throw her voice, it's similar to how Aza has the ability to 'throw her voice'.
v - e - d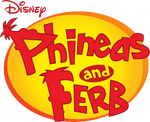 Episodes
Season One: "Rollercoaster" • "Candace Loses Her Head" • "The Fast and the Phineas" • "Lawn Gnome Beach Party of Terror" • "The Magnificent Few" • "S'Winter" • "Are You My Mummy?" • "Flop Starz" • "Raging Bully" • "Lights, Candace, Action!" • "Get That Bigfoot Outta My Face!" • "Tree to Get Ready" • "It's About Time!" • "Jerk De Soleil" • "Toy to the World" • "One Good Scare Ought to Do It!" • "A Hard Day's Knight" • "I, Brobot" • "Mom's Birthday" • "Journey to the Center of Candace" • "Run Away Runway" • "I Scream, You Scream" • "It's a Mud, Mud, Mud, Mud World" • "The Ballad of Badbeard" • "Dude, We're Getting the Band Back Together" • "Ready for the Bettys" • "The Flying Fishmonger" • "Phineas and Ferb Get Busted!" • "Greece Lightning" • "Leave the Busting to Us!" • "Crack That Whip" • "The Best Lazy Day Ever" • "Boyfriend From 27,000 B.C." • "Voyage to the Bottom of Buford" • "Put That Putter Away" • "Does This Duckbill Make Me Look Fat?" • "Traffic Cam Caper" • "Bowl-R-Ama Drama" • "The Monster of Phineas-n-Ferbenstein" • "Oil on Candace" • "Unfair Science Fair" • "Unfair Science Fair Redux (Another Story)" • "Out to Launch" • "Got Game?" • "Comet Kermillian" • "Out of Toon" • "Hail Doofania!"


Season Two: "The Lake Nose Monster" • "Interview With a Platypus" • "Tip of the Day" • "Attack of the 50 Foot Sister" • "Backyard Aquarium" • "Day of the Living Gelatin" • "Elementary My Dear Stacy" • "Don't Even Blink" • "Chez Platypus" • "Perry Lays an Egg" • "Gaming the System" • "The Chronicles of Meap" • "Thaddeus and Thor" • "De Plane! De Plane!" • "Let's Take a Quiz" • "At the Car Wash" • "Oh, There You Are, Perry" • "Swiss Family Phineas" • "Phineas and Ferb Musical Cliptastic Countdown" • "Phineas and Ferb's Quantum Boogaloo" • "Hide and Seek" • "That Sinking Feeling" • "The Baljeatles" • "Vanessassary Roughness" • "No More Bunny Business" • "Spa Day" • "Bubble Boys" • "Isabella and the Temple of Sap" • "Cheer Up Candace" • "Fireside Girl Jamboree" • "The Bully Code" • "Finding Mary McGuffin" • "What Do It Do?" • "Atlantis" • "Picture This" • "Nerdy Dancin'" • "I Was a Middle Aged Robot" • "Suddenly Suzy" • "Phineas and Ferb Christmas Vacation!" • "Undercover Carl" • "Hip Hip Parade" • "Just Passing Through" • "Candace's Big Day" • "Invasion of the Ferb Snatchers" • "Ain't No Kiddie Ride" • "Wizard of Odd" • "The Beak" • "Not Phineas and Ferb" • "Phineas and Ferb-Busters!" • "The Lizard Whisperer" • "Robot Rodeo" • "The Secret of Success" • "The Doof Side of the Moon" • "She's the Mayor" • "The Lemonade Stand" • "We Call it Maze" • "Ladies and Gentlemen, Meet Max Modem!" • "Nerds of a Feather" • "Phineas and Ferb Hawaiian Vacation" • "Split Personality" • "Brain Drain" • "Make Play" • "Candace Gets Busted" • "Summer Belongs to You!" • "Rollercoaster: The Musical!"
Season Three: "Run, Candace, Run" • "Last Train to Bustville" • "The Great Indoors" • "Canderemy" • "The Belly of the Beast" • "Moon Farm" • "Phineas' Birthday Clip-O-Rama!" • "Ask a Foolish Question" • "Misperceived Monotreme" • "Candace Disconnected" • "Magic Carpet Ride" • "Bad Hair Day" • "Meatloaf Surprise" • "Tri-Stone Area" • "Doof Dynasty" • "Phineas and Ferb Interrupted" • "A Real Boy" • "Mommy Can You Hear Me?" • "Road Trip" • "Skiddley Whiffers" • "Tour de Ferb" • "My Fair Goalie" • "Perry the Actorpus" • "Bullseye!" • "That's the Spirit" • "The Curse of Candace" • "Escape from Phineas Tower" • "The Remains of the Platypus" • "Ferb Latin" • "Lotsa Latkes" • "A Phineas and Ferb Family Christmas" • "What a Croc!" • "Ferb TV" • "Mom's in the House" • "Minor Monogram" • "Excaliferb" • "Monster from the Id" • "Gi-Ants" • "Agent Doof" • "Phineas and Ferb and the Temple of Juatchadoon" • "Delivery of Destiny" • "Let's Bounce" • "Quietest Day Ever" • "Bully Bromance Break Up" • "Doonkleberry Imperative" • "Buford Confidential" • "Sleepwalk Surprise" • "Sci-Fi Pie Fly" • "Meapless in Seattle" • "The Mom Attractor" • "Cranius Maximus" • "Sipping with the Enemy" • "Tri-State Treasure: Boot of Secrets" • "Doofapus" • "Norm Unleashed" • "When Worlds Collide" • "Road to Danville" • "Where's Perry?" • "Blackout!" • "What'd I Miss?" • "This is Your Backstory"
Season Four: "Fly On the Wall" • "My Sweet Ride" • "For Your Ice Only " • "Happy New Year!" • "Bully Bust" • "Backyard Hodge Podge" • "Der Kinderlumper" • "Just Desserts" • "Bee Day" • "Bee Story" • "Sidetracked" • "Knot My Problem" • "Mind Share" • "Primal Perry" • "La Candace-Cabra" • "Happy Birthday, Isabella" • "Great Balls of Water" • "Where's Pinky?" • "Mission Marvel" • "Thanks But No Thanks" • "Troy Story" • "Love at First Byte" • "One Good Turn" • "Cheers for Fears" • "Just Our Luck" • "Return Policy" • "Imperfect Storm" • "Steampunx" • "It's No Picnic" • "Terrifying Tri-State Trilogy of Terror" • "Druselsteinoween" • "Face Your Fear" • "The Klimpaloon Ultimatum" • "Doof 101" • "Father's Day" • "Operation Crumb Cake" • "Mandace" • "Tales from the Resistance: Back to the 2nd Dimension" • "The Return of the Rogue Rabbit" • "Live and Let Drive" • "Lost in Danville" • "The Inator Method" • "Act Your Age" • "Phineas and Ferb Save Summer" • "Night of the Living Pharmacists" • "Phineas and Ferb: Star Wars" • "Last Day of Summer" • "O.W.C.A. Files"
Ad blocker interference detected!
Wikia is a free-to-use site that makes money from advertising. We have a modified experience for viewers using ad blockers

Wikia is not accessible if you've made further modifications. Remove the custom ad blocker rule(s) and the page will load as expected.