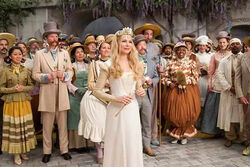 The
Quadlings
are inhabitants in the
Land of Oz
. They live in Quadling Country.
Appearances
The Quadlings are farmers who gain hope in Oscar Diggs. They no experience in fighting. Nonetheless, they joined Glinda's army against the Wicked Witch. They display no preference for the color Red.
Ad blocker interference detected!
Wikia is a free-to-use site that makes money from advertising. We have a modified experience for viewers using ad blockers

Wikia is not accessible if you've made further modifications. Remove the custom ad blocker rule(s) and the page will load as expected.