Quackmore Duck is an anthropomorphic duck who is Donald Duck's father and Huey, Dewey, and Louie's maternal grandfather.
Appearances
Early appearances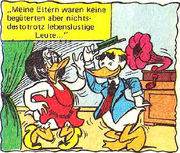 Donald's father was created by 
Carl Barks
, who first mentioned him in the Donald Duck family tree he sketched out for personal use in the 1950s. On this tree, he appeared as
Grandma Duck
's son and
Scrooge McDuck
's brother-in-law. Barks named Donald's father Quackmore Duck, and also mentioned his wife, Donald's mother, and Scrooge's sister, whom he named 
Hortense McDuck
.
Donald's parents first appeared in Donald Duck Writes a Book. During Donald's flashback, they could be seen dancing to the music of a gramophone in one panel. Donald tells that his parents were not rich, but nonetheless fun-loving people.
Later appearances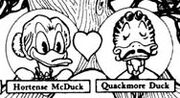 In Mark Worden's illustrated version of Barks' 1950s Duck family tree, Quackmore and Hortense were also given a portrait. On this tree, Quackmore appeared with black hair and a large, curly mustache.
In the comic book series The Life and Times of Scrooge McDuck, Quackmore had a supporting role. In the series' 10th chapter The Invader of Fort Duckburg, he meets Hortense, who has a temper very similar to his own. At the beginning of the following chapter, The Empire-Builder from Calisota, Hortense and Quackmore are engaged, and Quackmore is said to be Scrooge's bookkeeper. Near the end of the story, he and his family leave Duckburg.
Pictures of Quackmore appear in Woo-oo!, the premier of the Ducktales reboot, and he is mentioned by name by Webby Vanderquack.
Gallery