Ad blocker interference detected!
Wikia is a free-to-use site that makes money from advertising. We have a modified experience for viewers using ad blockers

Wikia is not accessible if you've made further modifications. Remove the custom ad blocker rule(s) and the page will load as expected.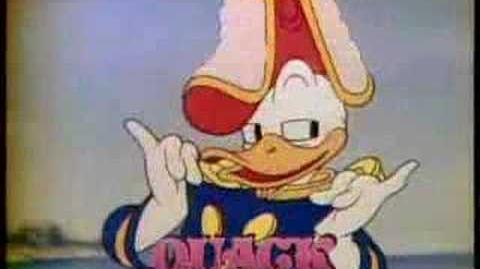 "Quack, Quack, Quack, Donald Duck" is an upbeat version of the Donald Duck theme song. It was first heard in the Disneyland episode "A Day in the Life of Donald Duck".
Lyrics
Quack, quack, quack, Donald Duck
He's my little pal
Quack, quack, quack, Donald Duck
Daisy is his gal
Quack, quack, quack, Donald Duck
In his sailor suit
Quack, quack, quack, Donald Duck
Gee, I think he's cute

I like the way he waddles
And I like to hear him talk
And when somebody makes him mad
Quack, quack, quack, how he can squawk

Quack, quack, quack, Donald Duck
Cocky as can be
Quack, quack, quack, Donald Duck
Here's what he taught me
When someone knocks you down
Get right up again
Show some pluck like Donald Duck
Quack, quack, quack, quack, quack