Puzzle Ninja is a puzzle game available on the Watch Disney XD app.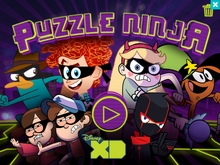 Game play
Edit
The game is a puzzle game in which the player drags and drops pieces of a puzzle onto the screen to complete a screenshot. Once completed, a clip plays.
Characters
Edit
Episodes Used
Edit
Star vs. the Forces of EvilEdit
Penn Zero: Part-Time HeroEdit
Gravity FallsEdit
Phineas and FerbEdit
Randy Cunningham: 9th Grade NinjaEdit
Wander Over YonderEdit
Randy is only character in the game who's wearing a Ninja Suit.