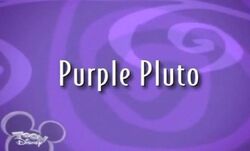 Purple Pluto is an animated short originally featured in episode #7 of Mickey Mouse Works. It was later featured in the House of Mouse episode "Ladies' Night".
Plot
Minnie is getting Pluto ready for the big dog show when she accidentally uses hair dye instead of shampoo! What will Mickey do when he finds out his true-blue friend is now true-purple?
Characters
Gallery
Ad blocker interference detected!
Wikia is a free-to-use site that makes money from advertising. We have a modified experience for viewers using ad blockers

Wikia is not accessible if you've made further modifications. Remove the custom ad blocker rule(s) and the page will load as expected.