The Pub Thugs
Background information
Feature films
Tangled
Tangled Ever After
Television programs
Video games
Tangled
Park attractions
Portrayed by
Portrayed by
Animators
Voice
Hookhand: Brad Garrett
Big Nose: Jeffrey Tambor
Shorty: Paul F. Tompkins
Performance model
Designer
Inspiration
Honors and awards
Character information
Full name
Other names
Hook Hand, Big Nose, Vladimir, Shorty, Attila, Ulf, Tor, Gunther, Greno and other thugs
Personality
Tough, kind, nice, menacing
Appearance
Slender nor obese, viking-like
Birthday
Occupation
Thugs
Affiliations
Good
Goal
Hookhand: To become a concert pianist
Big Nose: To have a beautiful girlfriend
Vladamir: to collect lots of unicorns
Tor: To become a florist
Gunther: To design interior objects
Attila: To open a bakery
Ulf: to be a mime
Shorty: To help out his friends anyway he can
Greno: find the royal guards
Home
The Snuggly Duckling
Relatives
Pets
Rats, goat, warthog
Allies
Rapunzel, Flynn Rider, Pascal, Maximus, each other, Captain of the Guards, The Stabbington Brothers, The King, The Queen.
Minions
Enemies
Mother Gothel, The Stabbington Brothers (formerly), Captain of the Guard (formerly)
Likes
Hookhand: playing piano
Big Nose: beautiful girls
Vladamir: collecting ceramic unicorns
Shorty: dressing like a cupid
Tor: organizing plants
Gunter: doing interior design
Attila: baking goodies
Ulf: miming
Bruiser: kniting
Killer: sewing
Fang: puppet shows
Greno: Hanging out
Dislikes
Flynn Rider (formerly), trouble, having their dreams unaccomplished.
Powers and abilities
Weapons
Swords, clubs, frying pan, hook, their own hands and strength
Fate
Hookhand becomes Corona's most famous concert pianist. Big Nose finds true love. Ulf becomes a mime and performs at the celebration. Shorty is seen dressed as a cupid tied to a bunch of lanterns at the end of the movie
Quote
Hookhand: "I had a dream once"
Big Nose: "What's your dream"
Shorty: "You got me!"
Atilla: "I could use the money!"
Vladimir: "I believe this is the man you're looking for."


Greno: "I found the guards!"
[Source]
The Pub Thugs are supporting characters in Disney's 2010 film Tangled.
When Rapunzel and Flynn Rider (aka Eugene Fitzherbert) arrive at the Snuggly Duckling, a seedy pub filled with thugs, the thugs recognize Flynn from the poster and plan to turn him in, but Rapunzel confronts the men stating that she needs Flynn to complete her dream of seeing the lights. The thugs decide to help her, as they also have unfinished dreams. When the guards arrive, Hookhand helps Rapunzel and Flynn by showing them a secret passage way until Maximus discovers it. Later in the film, Maximus rounds up Hookhand, Vladamir, Atilla, Ulf and Shorty to help Eugene escape from death row to save Rapunzel and they succeed. At the end of the film, Hookhand gets his dream come true and becomes a concert pianist, Big Nose finally gets a girlfriend, Ulf is very happy as Eugene narrates, and Shorty is seen at the end of the movie being lifted up by lanterns in his cupid outfit puckering his lips.
Other Appearances
During the wedding ceremony, Hook Hand, Big Nose, Attila, Vladimir, Ulf, Shorty and all the other thugs, are seen attending Rapunzel and Eugene's wedding.
Disney On Ice: Dare to Dream
The thugs appear in the Tangled segment singing I've Got a Dream to Rapunzel when she visits their pub like in the film.
Members
Hook Hand
Big Nose
Vladamir
Atilla
Shorty
Ulf
Gunther
Tor
Greno
Innkeeper
The innkeeper has a very little role in the film and is only seen making a soup of chameleons and other lizards which makes Pascal scared. However he plays a bigger role in the Tangled video game in the Snuggly Duckling level.
Axel
Axel also has a little role in the film but a big one in the video game. He is very worried about almost everything and he is also the little brother of the innkeeper.
Bruiser
Bruiser is a big tough-looking thug and his likes to knit. He also appears in the video game where he keeps
Flynn Ryder
and
Rapunzel
from talking to Vladimir until he gets a drink.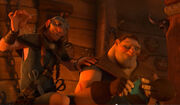 Killer
Killer is a smaller thug with lost of needs on his shoulder pads and belts with scissors and thread on them. Killer likes to sew and in the movie is seen sewing a cut on Bruiser's arm.
Fang
Fang is not actually seen but is mentioned in the Song "I Have a Dream" were we see his puppet show performance.
Pirate Thug
Pirate thug is the second largest thug with Vladamir in first place. He has a big dark red beard and he also has a peg leg. In the film he is seen putting Flynn on the foor while giving a sign to Vladamir to stomp the floor so Flynn flies up. In the video game he is just seen sitting on a chair drinking beer.
Goat Boy
Goat Boy has a little role in the movie and he is seen being hugged by the Big Nosed thug when he sings "like everybody else I got a dream". He also appears in the video game when Rapunzel and Flynn get a mission from the Innkeeper to cheer him up. He has a goat whose name is Milton.
Gallery
Trivia