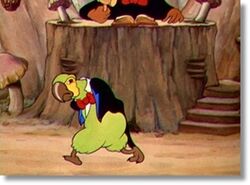 The prosecutor is a parrot prosecutor investigating the murder of Cock Robin in the 1935 Silly Symphony animated short, Who Killed Cock Robin?
Role in the Short
He appears as a prosecutor who attempts to determine who killed Cock Robin as he wooed his love, Jenny Wren. He pulls up numerous witnesses and culprits, but comes to the conclusion that the killer was Cupid. Robin, as it turns out, is not dead, but merely wounded by Cupid's arrow.
Gallery
Ad blocker interference detected!
Wikia is a free-to-use site that makes money from advertising. We have a modified experience for viewers using ad blockers

Wikia is not accessible if you've made further modifications. Remove the custom ad blocker rule(s) and the page will load as expected.