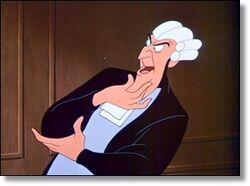 The prosecutor appeared in the court sequence of the Adventures of Ichabod and Mr. Toad segment "The Wind in the Willows" trying Mr. Toad. He was voiced by John McLeish. His appearance is very similar to Captain Hook from Peter Pan.
In the Disneyland version of Mr. Toad's Wild Ride he appears in both the courtroom and in the hell scene as a devil. Here, like most of the characters, he is voiced by Corey Burton.
Gallery
Ad blocker interference detected!
Wikia is a free-to-use site that makes money from advertising. We have a modified experience for viewers using ad blockers

Wikia is not accessible if you've made further modifications. Remove the custom ad blocker rule(s) and the page will load as expected.