Professor Poofenplotz
Comments

0
19,097pages on
this wiki
Background information
Feature films
Television programs
Phineas and Ferb
Video games
Park attractions
Portrayed by
Portrayed by
Animators
Voice
Amanda Plummer
Performance model
Designer
Inspiration
Honors and awards
Character information
Full name
Professor Esmeralda Poofenplotz
Other names
Personality
Appearance
Birthday
Occupation
Evil Scientist
Affiliations
Goal
Home
Relatives
Pets
Allies
Minions
Enemies
Pinky the Chihuahua
Likes
Dislikes
Powers and abilities
Weapons
Fate
Quote
[Source]
"I can't very well take over the world until I'm drop-dead gorgeous."
―Prof. Poofenplotz
Professor Esmerelda Poofenplotz is the nemesis of Agent Pinky, Isabella's dog. ("Day of the Living Gelatin", "Isabella and the Temple of Sap")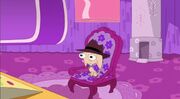 Her known schemes so far involve replacing handbags and searching for strong hairspray (her favorite is "Stiff Beauty" hairspray, which originally was only used by clowns).
She is concerned about her looks, as she can't take over the world until she feels she looks her best. Otherwise she shares much of Doofenshmirtz's personality, including having a vehicle which has her head as the main body and saying "Curse you, Pinky the Chihuahua!" when her plans are foiled or go wrong.
Background Information
Her evil jingle is "Poofenplotz Evil is Crazy!", very similar to Doofenshmirtz's evil jingle.
She bears an uncanny resemblance to the Grinch.
She bears a slight resemblance to Inspector Initials.
She also looks and sounds like Judi Dench, the actress who plays M in the more recent James Bond films.
Her lair/office/home bears some resemblance to Doofenshmirtz Evil Incorporated.
She appears briefly in "Rollercoaster: The Musical!"
She may be based on Cruella de Vil due to her wishes to be "Drop-dead gorgeous" and her dislike of dogs.
It is unknown if she is a member of L.O.V.E.M.U.F.F.I.N. since she doesn't appear in any of their meetings.
Appearances
Gallery