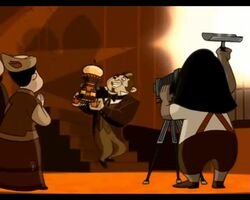 Professor Demens is a supposed ancestor of Professor Dementor, featured from the Kim Possible episode "Rewriting History".
Notes
As with everything depicted in the episode, except the final few moments after Kim and Ron wake to discover it was all a dream, it is highly questionable if Professor Demens was "real".
Ad blocker interference detected!
Wikia is a free-to-use site that makes money from advertising. We have a modified experience for viewers using ad blockers

Wikia is not accessible if you've made further modifications. Remove the custom ad blocker rule(s) and the page will load as expected.