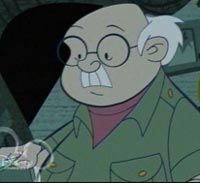 Professor Acari
[1]
[2]
[3]
is a minor character from the animated television show
Kim Possible
. He appears in the episode "
Tick-Tick-Tick
."
History
Professor Acari is a very talented entomologist who also has some experience in robotics. Professor Acari runs an advanced lab somewhere in South America. Professor Acari called Kim Possible when Shego broke into his lab and stole his plans for a robotic tick.
Gallery
References
Ad blocker interference detected!
Wikia is a free-to-use site that makes money from advertising. We have a modified experience for viewers using ad blockers

Wikia is not accessible if you've made further modifications. Remove the custom ad blocker rule(s) and the page will load as expected.