Princess Remora is a minor character in Wander Over Yonder. She has a mouth like a sucker fish.
Background
She only makes a brief appearance in the episode "The Hot Shot" as her father introduces Sir Brad Starlight to her for saving her planet, unaware Sylvia set him up with her to get even for his lies. She then sucks Brad's face with her large mouth and kisses him to his horror and Sylvia's amusement and Wander states that he thinks she likes him.
In the animatic of the episode, it is revealed that Remora and Brad got married and have two sons and are seen celebrating their anniversary and Remora sucks Brad's face again and kisses him, to their sons' disgust.
Appearances
Gallery
v - e - d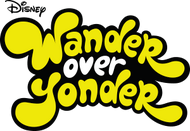 Organizations/Groups
Lord Hater's Army • Insurgent Generals • Wander and Sylvia • Bounty Hunters • Lord Dominator's Army • Galactic Villain Leaderboard
Locations
Lord Hater's Spaceship • Binglebopolopolis • Doomstone • Baaaaa-halla • Phunulon • Ballzeria • Buster • Doom Arena • Planet Ziziks • Flendar • Lord Dominatior's Spaceship • Arachnomorph Homeworld