Ad blocker interference detected!
Wikia is a free-to-use site that makes money from advertising. We have a modified experience for viewers using ad blockers

Wikia is not accessible if you've made further modifications. Remove the custom ad blocker rule(s) and the page will load as expected.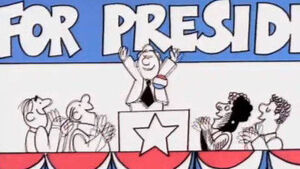 "Presidential Minute" is a song in Schoolhouse Rock!. The song teachs us about voting for the President.
Lyrics
Four years have passed
It's time again to state the main event
Election Day is drawing near
We'll pick our president

Republicans and Democrats hold national conventions
They built their party platforms to broadcast their intentions
The candidates they nominate will surely have potential
They'll have to campaign long and hard to prove they're presidential

With whistle stops and photo ops
And great debates and TV spots
Posters, pics, even dirty tricks
They run for president

The key states are the bigger ones with larger populations
They have the electoral votes it takes to win elections
Abe Lincoln, Grant, and FDR, they all got here this way
Be sure your mom and dad get out to vote Election Day

After whistle stops and photo ops
And great debates and TV spots
Election Day, we'll have our say
And pick a president