"
Poor Unfortunate Souls
" is a song from the
Walt Disney Pictures
animated film
The Little Mermaid
. Written by
Howard Ashman
and
Alan Menken
and performed by
Pat Carroll
, it is sung to
Ariel
by
Ursula
. In a style that combines Broadway Theatre with Burlesque, Ursula uses it to seduce Ariel into trading her voice for the chance to temporarily become human and be with
Eric
. There is dialogue interruption, in which Ursula tells the mermaid about her full plan.
A short melodic reprise of the song is featured later in the original Disney movie being sung by Vanessa, Ursula's alter ego, voiced by Jodi Benson (as she had stolen Ariel's voice). In it, she sings about how she is going to control the ocean and capture Ariel. This reprise is the final song in the film (not counting the finale for "Part of Your World"), and serves as a reprise of "Poor Unfortunate Souls".
Lyrics
Development
Poor Unfortunate Souls underwent little changes from storyboard to the final cut. One segment in the beginning of the scene was cut out from the final film, when Ursula beckons Ariel to come in. She toys with her hair for a bit and then explains to Ariel how she's been banished for attempting to, "elevate" her station in life. Which Ariel claims, was attempting to overthrow her father.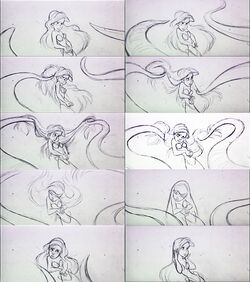 Then, there's another change that was made, in that an entire segment of the song was completely omitted from the final version of the scene which was meant to convince Ariel that going with Eric was the right thing, despite having to leave her family behind.
At this point, the storyboarded version of the film cuts off to Ursula explaining her price to Ariel, however, there is another version that goes just a little further. It is Howard Ashman's demo version, which drastically lengthens Poor Unfortunate Souls length.
Comic Adaptation
In the official comic book, Vanessa sings her reprise of the song, but with a new set of lyrics for the moment. Instead of dancing around her room in this version, Vanessa is sitting on a chair and brushing her hair while using a hand mirror instead of the large one in the film. 
Musical version
The original version of "Poor Unfortunate Souls" was left intact for the Broadway play, aside from the occasional ad-libbed line from Sherie Rene Scott.
Two versions of a full reprise of "Poor Unfortunate Souls" were written for the Broadway adaptation. The first version, used for the demo workshop and performed by Emily Skinner, contains lyrics implying that it is meant to be sung before Ursula transforms herself into Vanessa, with the above spell incantation.
The above demo reprise was scrapped when Ursula's temporary transformation into Vanessa was removed from the storyline of the Broadway show. It was replaced with a different reprise, sung by Ursula to King Triton to force him into taking Ariel's place in the agreement.
Jonas Brothers cover
The Jonas Brothers covered "Poor Unfortunate Souls" for The Little Mermaid two-disc special edition of the soundtrack, released on October 3, 2006 to correspond with the two-disc The Little Mermaid Platinum Edition DVD. The Special Edition Soundtrack includes a music video for the song, where the boys are singing around a public swimming pool.
Although the song mostly stays true to the lyrics of the original, certain lines have been changed to prevent any reference to magic or gender. Also, the second verse and ending have been omitted. Instead, the song ends with a reprise of the chorus following the first verse.
The song is also featured on Disney's On the Record along with "Part of Your World", "Under the Sea" and "Kiss the Girl" of songs from The Little Mermaid.
A portion of the song is performed twice in the Walt Disney World Magic Kingdom Halloween-themed fireworks show HalloWishes during Mickey's Not-So-Scary Halloween Party.
Other versions
Performer(s)
Title(s)
Translations(s)
Language
أشرف سويلم (Ashraf Suwailim)
"مساكين البحور"
"The Poors of the Seas"
Arabic
Zezé Motta
"Corações Infelizes"
"Unhappy Hearts"
Brazilian Portuguese
Нели Монеджикова (Neli Monedjikova)
"Погубват своя живот"
"They're Losing Their Life"
Bulgarian
Élizabeth Chouvalidzé
"Pauvres petites âmes en peine"
Canadian French
瑪俐亞 (Maria Cordero)
Cantonese
Helen de Quiroga
"Pobres Almas sin Sol"
"Poor Souls Without Sun"
Castilian Spanish
Ivana Vlkov-Wagner
"Nesretne duše"
"Unfortunate Souls"
Croatian
Valérie Zawadská
"Zoufalé duše"
"Desperate Souls"
Czech
Kirsten Rolffes
"Små ulykkelige pus"
Danish
Nelly Frijda
"Kommer en Kwel"
Dutch
Ulla Tapaninen
Finnish
Micheline Dax
"Pauvres âmes en perditions"
French
Beate Hasenau
German
Δέσποινα Κουντούδη (Despina Koudoudi) (1991 version)
Μανουέλα Μουστακοπούλου (Manouela Moustakopoulou) (1998 version)
Greek
רחל אטאס (Rachel Attas)
Hebrew
Hindi
Éva Schubert
"Szegény mélabús lélek"
"Poor Melancholy Souls"
Hungarian
Margrét Vilhjálmsdóttir
"Sálir sem þjást"
"The Souls Who Suffer"
Icelandic
Ani Hidayat
Indonesian
Sonia Scotti
"La canzone di Ursula"
"Ursula's Song"
Italian
森公美子 (Kumiko Mori)
"不幸せな魂" (Fushiawase Tamashii)
"Unhappy Souls"
Japanese
박정자 (Park Jeong-Ja)
Korean
Serena Olvido
"Pobres Almas en Desgracia"
"Poor Souls in misfortune"
Latin American Spanish
"Roh Berjiwa Malang"
"Unfortunate Souls"
Malay
姜瑰瑾 (Jiang Gui-Jin)
Mandarin
Anne Grete Preus
"Stakkars nedbrutte sjeler"
Norwegian
Stanisława Celińska
"Ach, Zrób Duszyczko Ten Krok"
"Oh, Make That Step, Little Soul"
Polish
Xuxu
"Pobres Almas Desgraçadas"
Portuguese
Putonghua
Corina Chiriac
"Biet suflet fără noroc"
"Poor Souls Without Luck"
Romanian
Анастасия Минцковская (Anastasia Mintskovskaya)
Russian
Lucia Vráblicová
Slovak
Evabritt Strandberg
"Ni förkrympta små liv"
Swedish
Tamil
? (1991 version)
นภาเพชร แก้วดอนชัยเลิศ (Naphaphet Kaewdonchailoed) (1998 version)
Thai
Işıl Yücesoy
Turkish
Gallery
Trivia
Howard Ashman recorded a version of the song with himself in the role of Ursula, to send to Carroll to convince her to take the role, which it did. This version was released in the four-CD set The Music Behind the Magic. Carroll admits that she borrowed some of the inflections she used in the song from Ashman's performance, and that he had been delighted she had done so.
Carroll's original rendition of "Poor Unfortunate Souls" was included on a 1995 compilation CD of songs performed by or about various Disney villains called Rascal Songs. The CD was released as part of a four-disc Disney song series as a McDonald's promotional item.
During the song, Ursula pulls out a contract, laying out the terms of the deal. The movie spares a moment to glance over the words of the contract, but speeds from the top of the scroll to the bottom at fast speed. If one were to slow down the movie at this part, they would notice that the contract is made up of garbled words, and a hidden mickey can be seen as well.
The french translation is quite similar to the original. However, the literal translation of the name would be Pauvres âmes infortunées, but they have chosen to replace it by Pauvres âmes en perdition (more or less translatable by Poor souls in distress), which is a clever pun because en perdition can mean in distress, but also (talking about a ship) about to sink — which makes sense in an underwater story—, and âme en perdition can mean soul in perdition in a religious meaning, which also makes sense given that Ariel is about to conclude a faustian deal in that song. 
Before this song was written, Ursula would sing a song called "Silence is Golden". The lyrics of this were partly reinjected into Poor unfortunate souls. 
An episode of Once Upon a Time ("Poor Unfortunate Soul") is named after this song.
During the reprise, an error can be seen when Vanessa stomps on a bottle on the vanity. In one shot, the bottle is seen as being blue, but in a close up, we see another bottle that is purple, which she steps on. After the shot pans out, both the blue bottle and purple one are gone.
In the comic book adaptation of the film, Vanessa sings the reprise when the shell necklace is not shown, implying that she can still use Ariel's voice so long as the necklace is intact.
Vanessa was Jodi Benson's first role as a villainous character in film. She would not go on to voice a villain-like character until the video game Grandia 2, when she plays the role of Millenia.
In the Cantonese dub of the film, the dubbers did not translate the reprise; instead replacing the lyrics with a sample of Jodi Benson's vocalization.
In the Greek 1998 version, Vanessa's middle laugh in the reprise is not dubbed at all; instead, she stays silent.
15 years after the release of the film, "Poor Unfortunate Souls (Reprise)" finally got a release for the Walt Disney Records Legacy Collection Soundtrack. Before then, it was unofficially called "Vanessa's Song".
| | |
| --- | --- |
| | This page uses content from the English Wikipedia. The article or pieces of the original article was at Poor Unfortunate Souls. The list of authors can be seen in the page history. As with Disney Wiki, the text of Wikipedia is available under the GNU Free Documentation License. |