Pooh's Grand Adventure: The Search for Christopher Robin
Comments

5
Share
Pooh's Grand Adventure: The Search for Christopher Robin
(also known as
Winnie the Pooh's Most Grand Adventure
in some countries) is a 1997 direct-to-video animated film from
Walt Disney
's
The Many Adventures of Winnie the Pooh
. The film follows Pooh and his friends on a journey to find and rescue their friend Christopher Robin from the "Skull". Along the way, the group confront their own insecurities throughout the search, facing and conquering them in a series of events where they're forced to act beyond their own known limits, thus discovering their true potential. Unlike the film's predecessors, this film is an entirely original story, not based on any of
A. A. Milne
's Pooh stories (however, some elements come from the stories in The
House at Pooh Corner
called "In which Rabbit has a busy day and we learn what Christopher Robin does in the mornings" and "In which Christopher Robin and Pooh come to an Enchanted Place and we leave them there").
The movie is also the first Winnie the Pooh film (and the first Disney direct-to-video film) ever to have its special edition did have a VHS release and now it's only on DVD. It was not given an American rating, but in Canada it holds a G-rating.
Sources
The films plot is primarily based on three A. A. Milne stories from The House at Pooh Corner: "In which Christopher Robin and Pooh come to an Enchanted Place and we leave them there" "In which Tigger comes to the forest and has breakfast" and "In which Rabbit has a busy day and we learn what Christopher Robin does in the mornings".
Plot
Once upon a last day of a golden summer, Christopher Robin does not have the heart to tell Winnie the Pooh of his departure to school the next day. Although the two have fun playing the whole day, Christopher Robin is unable to tell Pooh where he's going, and leaves him with the advice, "You're braver than you believe, stronger than you seem, and smarter than you think."
The next morning, Pooh discovers a honey pot with an attached note - however, he cannot read it himself. As he goes around to his friends Piglet, Tigger, Rabbit and Eeyore, it's clear that the group needs Christopher Robin's help and advice with their own obstacles, and none of them are able to read it. From deciphering the note, Owl claims that Christopher Robin has been taken to a distant, mysterious and dangerous land called Skull against his will. Owl equips the group with a map and sends them into the "Great Unknown" of the Hundred Acre Wood, warning them of the ferocious beast that lords over Skull, the "Skullasaurus".
Soon after their departure, growls are heard off into the distance, and the group assumes that they are being pursued by the Skullasaurus. This causes all out panic and, being a "bear of very little brain", Pooh quickly proves unfit for leading his friends on this mission, leading Rabbit to assume command of the five. During their travels the group slowly realizes just how helpless they are without Christopher Robin in the outside world: In a tranquil valley outside of a forest of thorns, poor Piglet is abducted by a swarm of butterflies, making him believe he is too afraid to do anything; at a ravine, a frightened Tigger doesn't have the strength to bounce out to safety, causing all his friends to plummet with him in their attempt to retrieve him; and finally, a confused Rabbit realizes he is helpless with the map ripped in two, leaving the group lost in the mist. The group comes to terms with the fact that they are lost and helpless without Christopher Robin, but take shelter in a nearby cave. While everyone is asleep, Pooh, heartbroken, laments getting no closer to finding his dear friend Christopher Robin.
In the morning, the five realize with horror and fear that they took refuge in Skull Cave itself, the perilous den of the Skullasaurus. Though very much afraid, the five all split up to search for Christopher Robin on their own; however, the Skullasaurus' roars and growls eventually bring Piglet, Tigger, Rabbit and Eeyore back together, who, mistaking Pooh's monstrously distorted reflection in a huge crystal to be the Skullasaurus, flee without Pooh. The bear becomes stuck in a narrow crevasse in the cave's crystals, and his muffled cries make the other four believe he has been killed and eaten by the Skullasaurus. Seeing the entrance to the "Eye of the Skull", where Christopher Robin supposedly is, the remaining four decide to push on for Pooh's memory, and are able to prove their potential: Rabbit proves his intelligence by devising a brilliant plan to reach the top, Tigger proves his strength by bouncing up there unassisted, and Piglet proves his bravery by getting Rabbit and Eeyore a way up to the ledge. Pooh has been watching this the whole time, and excitedly frees himself, only to hit a rock wall and descend into a deep pit, with no way out. While in despair at his permanent imprisonment, Pooh deduces that Christopher Robin is still with him in his heart, and it is enough to get the bear out of his sadness.
The others reach the Eye of the Skull, and indeed find Christopher Robin alive and well, but explain that Pooh was seemingly killed by the Skullasaurus. Upon hearing the creature's roars again, Christopher Robin explains that they are only the growls of Pooh's stomach (Pooh had never eaten any of his honey because he had intended on saving it for when he found Christopher Robin), and explains he had to go to school not Skull, and he would return in the afternoon. Rabbit, to his annoyance, realizes that Owl misinterpreted the message. Christopher Robin soon rescues Pooh from the deep pit, much to the bear's joy.
The six exit Skull Cave, only to discover that from the outside, it is far less frightening then when they first arrived. Christopher Robin explains that since they were alone and afraid, it only appeared to be huge and menacing, and this proves true for all the obstacles they'd faced on their journey as they happily march home. That evening, Christopher Robin says he will still have to return to school, but that they have no need to embark on another quest to find him, since he will always return. Pooh declares that he will always be waiting for him, and the two happily watch the sunset, knowing they will always have each other in the sanctuary of the Hundred Acre Wood.
Videos
Songs
"Forever and Ever" was later sung by songwriter and singer Carly Simon for Piglet's Big Movie.
Cast
Reception
Pooh's Grand Adventure has garnered much less praise than its predecessors. It has received generally mixed to negative reviews from critics. A common criticism for the film was it its unwelcome introduction of maturity and dark imagery for a Pooh film. The review aggregator website Rotten Tomatoes reports that 38% of the critics gave the film a positive review based on 8 reviews, making it unique in that it became the first and only Pooh film to earn a "rotten" certification, and also the only direct-to-video Pooh film to have a score at all. George Blooston of Entertainment Weekly gave the film a C grade, calling it "treacly" and criticized its lack of "grown up-wit [and] child psychology of the four A.A. Milne stories Disney adapted so long ago." Reviewer Ellen Rosen felt that its story was "meaningless" and that "eighty percent of it's scenes are scary." David Nusair of Reel Film Reviews called the film "tedious", and Alex Sandell of Juicy Cerebellum felt that Disney "sucked with [it]."
Not all reviews were negative. Jane Louise Boursaw of Kaboose gave the film a mostly positive review, praising the songwriting and script. John J. Puccio of Movie Metropolis was also positive; while he admitted that it's more "adventurous" than Milne's stories, he felt that this was compensated by "unaffected charm" and visual appearance. Maria Llull of Common Sense Media did not think there was much violence, giving it three out of five stars and saying that it was okay for kids three and up, although this led to criticism from adult users on the site who criticised her for underrating the film's content.
Notes
Kanga, Roo, and Gopher are absent in this film.
Frank Welker was originally going to voice the Skullasaurus growls, but was later replaced by Jim Cummings, who also voiced Pooh.
There was some negative criticism regarding this film. Some believed that the mild horror elements of the film were too scary for young children, such as the scary Skullasaurus growls, falling down the long gorge, and the creepy skull cave but others thought this just helped make it the great movie that it is.
This is the first time Brady Bluhm voiced Christopher Robin.
This was the last Winnie the Pooh film in which Paul Winchell voiced Tigger (his final singing role). However, it wasn't the last time he voiced him. His last time was in Winnie The Pooh: A Valentine For You. He was originally supposed to voice Tigger again in The Tigger Movie in 2000 but his voice had become somewhat scratchy by the recording date, so he was replaced by Jim Cummings, the voice of Pooh.
Parts of the plot of this movie (namely the presence of Skull, along with other aspects) were adapted for the 100 Acre Wood world in Kingdom Hearts II.
This film has 2 remixes by Pogo in 2011.
Even though the original 1997 videocassette of Pooh's Grand Adventure was not part of the Walt Disney Masterpiece Collection, the video does contain the collection's logo at the start of the film as a mistake.
This is the last Winnie the Pooh film to use cel animation.
v - e - d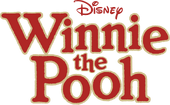 Episodes
The New Adventures of Winnie the Pooh
Season One: "Pooh Oughta Be in Pictures" • "Donkey for a Day/Friend, In Deed" • "There's No Camp Like Home/Balloonatics" • "Find Her, Keep Her" • "The Piglet Who Would Be King" • "Cleanliness is Next to Impossible" • "The Great Honey Pot Robbery" • "Stripes/Monkey See, Monkey Do Better" • "Babysitter Blues" • "How Much is That Rabbit in the Window" • "Gone with the Wind/Nothing But the Tooth" • "Paw and Order" • "Honey for a Bunny/Trap as Trap Can" • "The Masked Offender/Things That Go Piglet in the Night" • "Luck Amok/Magic Earmuffs" • "The Wishing Bear" • "King of the Beasties/The Rats Who Came to Dinner" • "My Hero/Owl Feathers" • "A Very, Very Large Animal/Fish Out of Water" • "Lights Out/Tigger's Shoes" • "The "New" Eeyore/Tigger, Private Ear" • "Party Poohper/The Old Switcheroo"
Season Two: "Me and My Shadow/To Catch a Hiccup" • "Rabbit Marks the Spot/Good-bye, Mr. Pooh" • "Bubble Trouble/Ground Piglet Day" • "All's Well That Ends Wishing Well" • "Un-Valentine's Day" • "No Rabbit's a Fortress/The Monster Frankenpooh" • "Where, Oh Where Has My Piglet Gone?/Up, Up and Awry" • "Eeyore's Tail Tale/Three Little Piglets" • "Prize Piglet/Fast Friends" • "Pooh Moon/Caws and Effect"
Season Three: "Oh, Bottle/Owl in the Family" • "Sham Pooh/Rock-a-Bye Pooh Bear" • "What's the Score, Pooh?/Tigger's Houseguest" • "Rabbit Takes a Holiday/Eeyi Eeyi Eeyore" • "Pooh Skies" • "To Bee or Not to Bee/April Pooh" • "A Knight to Remember" • "Tigger is the Mother of Invention/The Bug Stops Here" • "Easy Come, Easy Gopher/Invasion of the Pooh Snatcher" • "Tigger Got Your Tongue/A Bird in the Hand"
Season Four: "Sorry, Wrong Slusher" • "Grown But Not Forgotten" • "A Pooh Day Afternoon" • "The Good, the Bad, and the Tigger" • "Home is Where the Home is" • "Shovel, Shovel, Toil and Trouble/The Wise Have It" • "Cloud, Cloud Go Away/To Dream the Impossible Scheme" • "Piglet's Poohetry/Owl's Well That Ends Well"
The Book of Pooh
Season One: "Best Wishes, Winnie the Pooh/Double Time" • "Are You Me?/Rabbit's Happy Birthday Party" • "Circumference Equals Pirate 'Arrr' Squared/Pooh's to Do" • "Pigletry/Dinosnores" • "I Could Have Laughed All Night/X Spots the Mark" • "My Gloomy Valentine/Mr. Narrator" • "Vegetable of Contents/A Welcome to Beat the Band With" • "Owl's Book/The Autobiography of Tigger" • "You Can Lead Eeyore to Books/The Spice of Life" • "The Words Are Out/Brain Drain"
Season Two: "Please and Thank-You's/The Rumor Millstone" • "Over the Hill/Tigger's Replacement" • "The Wood Without Pooh/Friends of a Different Stripe" • "Mothers of Invention/Once Upon a Happy Ending" • "Piglet's Perfect Party/A Wood Divided" • "Bravehat/Scaredy Cat" • "Blue Ribbon Bunny/Under the Pig Top" • "The Book of Boo" • "Could it Be Magic?/Diary of a Mad Gardener" • "The Case of the Disappeared Donkey/The Littlest Dinosnore"
Songs
Movie Songs
Winnie the Pooh and the Honey Tree: "Winnie the Pooh" • "Up, Down, Touch the Ground" • "Rumbly in My Tumbly" • "Little Black Rain Cloud" • "Mind Over Matter"
Winnie the Pooh and the Blustery Day: "A Rather Blustery Day" • "The Wonderful Thing About Tiggers" • "Heffalumps and Woozles" • "Rain, Rain, Rain Came Down, Down, Down" • "Hip-Hip-Poohray"
Boo to You Too! Winnie the Pooh: "I Am Not Afraid" • "I Wanna Scare Myself"
Pooh's Grand Adventure: The Search for Christopher Robin: "Forever & Ever" • "Adventure is a Wonderful Thing" • "If It Says So" • "Wherever You Are" • "Everything is Right"
The Many Songs of Winnie the Pooh: "It Really Was a Woozle, Yes it Was"
Sing a Song with Pooh Bear: "Kanga Roo Hop" • "You're the One and Only One" • "Harvest What You Grow" • "My Song"
Winnie the Pooh: A Valentine for You: "Girls are Like Boys" • "When the Love Bug Bites" • "Places in the Heart"
The Tigger Movie: "Someone Like Me" • "Whoop-de-Dooper Bounce" • "Lull-a-Bee" • "Round My Family Tree" • "How to Be a Tigger"
Piglet's Big Movie: "A Mother's Intuition" • "With a Few Good Friends" • "Sing-Ho (For the Life of a Bear)"
Springtime With Roo: "We're Huntin' Eggs Today" • "Sniffly Sniff" • "Easter Day With You" • "The Way It Must Be Done" • "The Grandest Easter of Them All"
Pooh's Heffalump Movie: "The Horribly Hazardous Heffalumps" • "Little Mr. Roo" • "The Name Game" • "Shoulder to Shoulder" • "In the Name of the Hundred Acre Wood/What Do You Do?"
Pooh's Heffalump Halloween Movie: "Trick 'R' Treating With Our Friends" • "Brave Together" • "As Long As I'm Here With You"
Winnie the Pooh: "The Tummy Song" • "A Very Important Thing to Do" • "The Winner Song" • "The Backson Song" • "It's Gonna Be Great" • "Everything is Honey" • "Pooh's Finale"
Television Songs
Welcome to Pooh Corner: "Welcome to Pooh Corner Theme Song" • "Try a Little Something New" • "The Right Side" • "Just Say, 'Yes I Can'" • "You're the Only You" • "I Hum to Myself" • "Please and Thank You" • "Responsible Persons" • "Be a Buddy, Be a Pal" • "Trees" • "A Part of Me" • "Welcome to Pooh Corner Ending Theme"
The New Adventures of Winnie the Pooh: "Pooh Bear" • "'Cause It's Make Believe" • "The Floating Song" • "Nothing's Too Good for a Friend" • "Under the Bed" • "I Don't Have A Name" • "King of the Beasties (song)" • "The End" • "Pirates is What We'll Be" • "Tigger, the Private Ear is Here"
The Book of Pooh: "Everyone Knows He's Winnie the Pooh" • "Your Best Wishes" • "On the Double" • "Who is Me" • "Think, Think, Think" • "A Pirate Has Got to Have Arrr" • "Day in the Life of a Pooh" • "What Piglets Are" • "Dinosnores" • "I Watch for Signs" • "We're Making a Cake" • "A Mystery" • "If I Could Be Big" • "Isn't that Funny?" • "Find the X" • "Everyone Wants a Valentine" • "That's What We Do" • "Keep it Simple" • "Have You Got a Book For Me?" • "Give It a Try" • "The Play's the Thing" • "On Your Way Back Home" • "Nightmare Wranglers" • "We Royaly Request" • "The Sweetest Thing You Are Seeking" • "Carry On" • "The Plumed Protector" • "Flying Up, Up and Away" • "The Bluebird Song" • "Green Thing" • "What's Your Name, River?" • "Thank You, Please" • "When You're a Monster Too" • "Where Do Words Go?" • "Show the Sign" • "Under a Spelling Bee's Spell" • "With Books You Get Carried Away" • "Adventure" • "Mental Altitude" • "I Want to Know Everything Now" • "Happy Tailiversary" • "Get Growin'" • "Tigger's Lullaby" • "A Wood Without Pooh" • "Impossible to Live With" • "Rhyme-a-Bye" • "Friends Until the End" • "Perfect Party" • "If We Were Talkin'" • "Party Animal" • "Bravehat" • "That's All it Was" • "What's a Tigger Without a Bounce?" • "Our Favorite Day" • "Someone New to Meet" • "Every Day is a Song" • "When I Meet a Heffalump" • "Time Stands Still" • "The Who, What, When, Where, Why" • "24 Hours to Save the Day" • "Gardener of the Year" • "The Hundred Acre Circus" • "Into Outer Space" • "Blissful Bossa Nova" • "My Hero\If You Don't Have Friends" • "Talking Tomato" • "Flying" • "I Want To Be Scary" • "Nothin' Much Scares Me" • "The Hundred Acre Halloween" • "Just Ring Your Bell" • "Our Perfect Map of the Wood" • "Broken Friendships" • "Do the Roo" • "The Rabbit Tango" • "The Honey Dance" • "Piglet Ballet" • "Call Me Buck-a-Roo" • "It's Only Magic" • "I Never" • "King of the Heffalumps" • "Pouncing Panther Pledge" • "At Chez Piglet" • "A Perfect Forest" • "That's How You Put on a Show" • "Let it Rain" • "Stripey McSnarl Always Gets His Man" • "The Littlest Dinosnore" • "Nothing Ever Happens" • "Power of the Pencil" • "Too Much Honey" • "Lost in a Book" • "Goodbye for Now"
My Friends Tigger and Pooh: "My Friends Tigger and Pooh Theme Song" • "Bouncin'" • "Just a Few Simple Rules" • "The Password Song" • "Underneath the Same Sky" • "One Big Happy Family" • "Think, Think, Think" • "Ask a Question" • "The Little Things You Do" • "Christmas Comes Tomorrow" • "Time to Go (On a Trek Through the Snow)" • "Snowman Song"
Miscellaneous: "Luv-a-bye"
Ad blocker interference detected!
Wikia is a free-to-use site that makes money from advertising. We have a modified experience for viewers using ad blockers

Wikia is not accessible if you've made further modifications. Remove the custom ad blocker rule(s) and the page will load as expected.