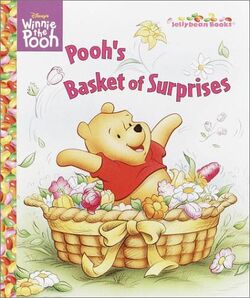 Pooh's Basket of Surprises is a 2001 Jellybean Books storybook featuring Winnie the Pooh and his friends.
Book Description
Pooh decides to make special flower baskets for each of his friends. But when he's left with one empty basket and no more flowers, Pooh creates the sweetest basket of all!
Details
Hardcover: 32 pages
Publisher: Disney Press (Jan 2001)
Language: English
ISBN-10: 0736411054
ISBN-13: 978-0736411059
Ad blocker interference detected!
Wikia is a free-to-use site that makes money from advertising. We have a modified experience for viewers using ad blockers

Wikia is not accessible if you've made further modifications. Remove the custom ad blocker rule(s) and the page will load as expected.