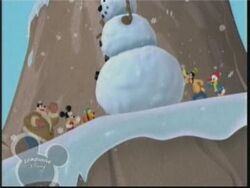 "Pluto to the Rescue" is an episode from the second season of Mickey Mouse Clubhouse, originally aired on Playhouse Disney on December 13, 2008.
Plot
Pluto comes to the rescue when Donald and Goofy build a snowman so big they can't climb around it or over it.
Guests
Gallery
Ad blocker interference detected!
Wikia is a free-to-use site that makes money from advertising. We have a modified experience for viewers using ad blockers

Wikia is not accessible if you've made further modifications. Remove the custom ad blocker rule(s) and the page will load as expected.