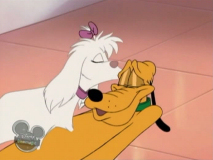 Pluto's Penthouse Sweet is an animated short starring Pluto, originally aired as part of the second episode of Mickey Mouse Works. It was later shown as part of the House of Mouse episode "Max's Embarrassing Date".
Plot
When Mickey and Donald head out on a double-date with Minnie and Daisy, Pluto is left behind feeling lonely. Then he spies Tiki, a beautiful Maltese Terrier, and pursues her to her sky-high skyscraper. However, once inside her penthouse suite, Pluto finds the tables turned, with Tiki in hot pursuit of him!
Characters
Gallery
Ad blocker interference detected!
Wikia is a free-to-use site that makes money from advertising. We have a modified experience for viewers using ad blockers

Wikia is not accessible if you've made further modifications. Remove the custom ad blocker rule(s) and the page will load as expected.